False Ceiling Designs: Types, Advantages & Disadvantages
In this article, we will discuss false ceiling designs.
A False Ceiling is not similar to the standard ceiling which is prepared by the use of decorative material such as gypsum board, PVC panels, tiles, etc. There is a gap left between the standard ceiling and the false ceiling. The false ceiling is the best material to utilize to enhance soundproofing in halls and auditoriums. The false ceiling is normally kept at a certain distance from the original ceiling with the use of metal wires. The gap between the ceiling and the false is kept in inches but it can be increased up to one foot when the floor height is higher than 10 ft. The false ceiling is a fixed grid of metal that is tied to the original ceiling.
The false ceiling provides a better appearance to the room but is also very useful in concealing heavy wires, pipes, and insulations. In many multi-stories offices and business buildings, a false ceiling is utilized to give an HVAC system that provides a clean air supply in the room. This system can be easy maintenance by just detaching the affected area ceiling panel and attaching it again. The false ceiling system is inexpensive and easy to fix. There are various types of False Ceiling materials found in the market that can be utilized to prepare aesthetically attractive ceiling designs.
---
  1. Types of False Ceilings  
There are different types of false ceilings used in home interiors that can be classified into different types according to their materials, appearance, and visibility.
The 8 major types of false ceilings majorly used are as follows:
1. POP False Ceiling
2. Gypsum Board False Ceiling
3. Wooden False Ceiling
4. PVC False Ceiling
5. Metal False Ceiling
6. Glass False Ceiling
7. Fibre False Ceiling
8. Fabric and Synthetic Material False Ceiling
  1. Plaster of Paris False Ceiling  
The plaster of Paris in the short form known as POP is a gypsum-made ceiling. Plaster of Paris is a commonly used type of false ceiling material utilized to build the ceiling area. POP materials are found in powder form in the market which can be utilized to prepare a paste and use on wooden board and fiberboard with the intended shape and design.
Plaster of Paris material is highly long-lasting and gives good insulation against cold and heat in the room. The false ceiling prepared by POP looks very attractive and outstanding after proper lighting and paintwork is done.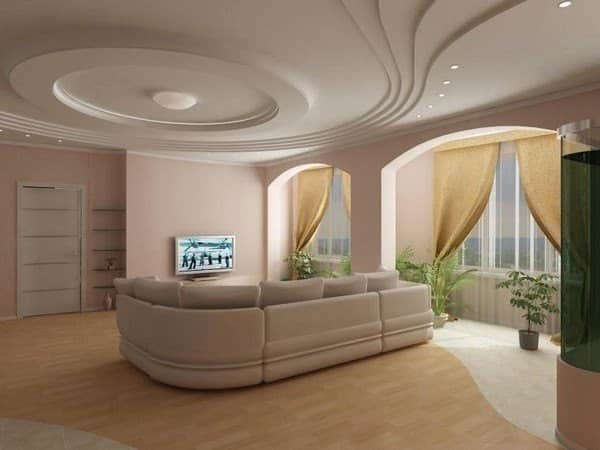 2. Gypsum Board False Ceiling  
Gypsum board made of a core of set gypsum surfaced with specifically prepared paper firmly attached to the core. It is prepared to be utilized without the addition of plaster on walls, ceilings, or partitions and gives a surface best to get either paint or paper.
Gypsum Board is a majorly utilized construction material majorly in interior design works. Gypsum Board is utilized as surface material and its uses are important in wall and ceiling preparation. The gypsum board has higher features like fire resistance, soundproof and lightweight it is utilized as drywall. It is the best construction material for wall, ceiling, and partition walls in residential and commercial structures. The gypsum board is available in some standard sizes like 600 mm x 600 mm. They are kept as tiles on a metal frame that is swinging from the original ceiling.
  3. Wooden False Ceiling  
Wood is a commonly utilized and popular interior and exterior decoration material. Wood can be utilized to make a beautiful false ceiling for your room. Its major advantage is that it can be chopped in any shape and size before being utilized.
Wood is the best building material that can be utilized in blending with other materials like gypsum, glass, metal, etc. The wood is available in form of hollow bricks boards and panels to be utilized as false ceiling materials. It is also found in various finishes such as natural varnished, laminated, lacquers, and melamine.
  4. PVC False Ceiling  
The full form of PVC is Polyvinyl chloride. It is one of light weighted and costs affect false ceiling materials utilized by homeowners. PVC panels are utilized as exterior wall cladding of residential and commercial buildings. PVC is a strong plastic material and since it is prepared in a factory, the completed surface is smooth. It can be prepared in any desired shape and size according to requirements.
The PVC material is highly water-resistant which produce it the perfect solution for water loss problems through the ceiling. It is lightweight, termite-proof, and requires very less maintenance than that of other types of false ceilings.
  5. Metal False Ceiling  
A metal false ceiling is prepared of steel, aluminum, or galvanized iron. The metal false ceiling is found in form of panels, planks, and ceiling tiles. The metal false ceiling is easy to fix as its parts are prefabricated.
The metal ceiling frames are prepared in various sizes and shapes for ceiling work. They are attached to a steel metal grid which is fixed by a cross or T section attached to the ceiling roof. It is the most long-lasting and strong material compared to other types of material. The thickness of metal panels is generally in the range of 0.4 mm to 1 mm utilized for false ceiling work.
The metal surface covering is in the form of powder which is utilized in aluminum and steel false ceilings. The shape of metal panels utilized for the false ceiling is square type or plank type or perforated type.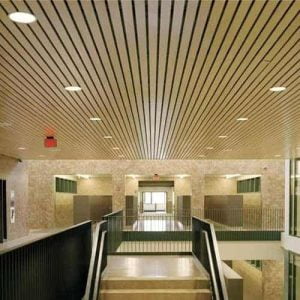 6. Glass False Ceiling  
Glass is a famous type of false ceiling material utilized in the world. The glass material is non-crystalline and has brittle and transparent features. It is utilized for decoration and lighting work in the home and offices.
As it has the best heat insulation features is utilized for false ceilings for office and residential buildings. Glass is found in markets of various shapes, sizes, and colors which gives it the most versatile material utilized in the construction industry. Due to its transparent nature, it shows smaller spaces as bigger in size. Glass is utilized in form of panels which is a good ceiling solution for restaurants, offices, libraries, etc.
  7. Fibre False Ceiling  
The fiber false ceiling material is prepared by blending synthetic and natural materials like tars, vegetable fiber, and bitumen and wood fibers. It is usually known for its good insulation features like soundproofing and acoustic nature.
Because fiber acts as reinforcement, it provides the properties like hardness, and toughness, and can resist the fire that making it a very suggested type of false ceiling material for commercial buildings such as retail shops, shopping malls, and offices.
  8. Fabric and Synthetic Material False Ceiling  
For constructing the false ceiling of fabric and synthetic, the materials utilized are cloth and leather. As the materials are prepared in factories, they can be made with the needed shape and size.
The ceiling prepared with fabric and synthetic materials gives an outstanding sight appearance. Its light transferring features are quite less compared to others and also can get dirt by dust, it is only suggested for temporary building and tents false ceiling work.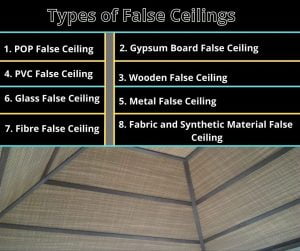 ---
  2. Best False Ceiling Designs  
Here are the some best false ceiling designs:
1. False Ceiling Designs For Flat and House
2. False Ceiling Designs For Villas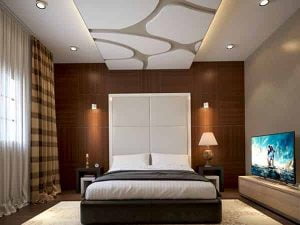 3. False Ceiling Designs For Office
4. False Ceiling Designs For Hotel And Restaurant
5. False Ceiling Designs for Bedroom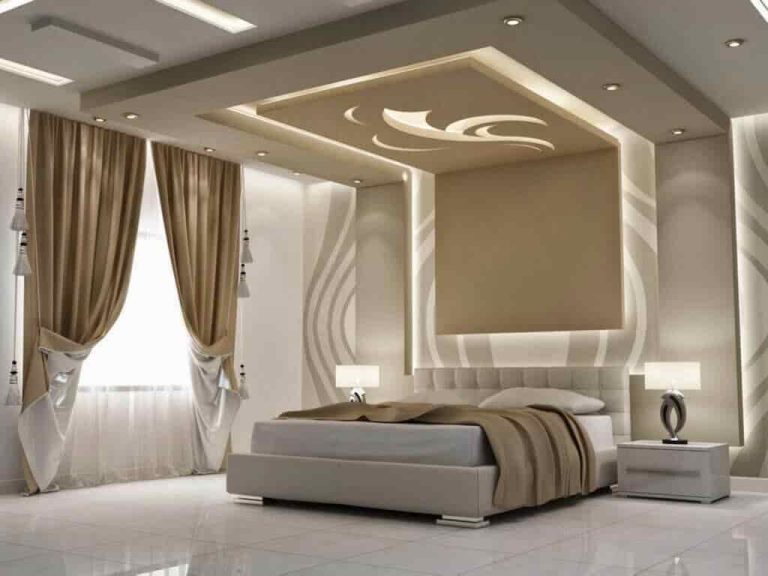 ---
  3. Advantages of False Ceiling  
The advantages of a false ceiling are as follows: 
a. False ceiling installation is a very hard task you can hang it effortlessly with the best tools and equipment.
b. The false ceiling work provides a slant and clutter-free look by concealing all the ductwork, pipes, and electrical wiring work.
c. If any type of damage is seen can be easily maintained by just removing the damaged false ceiling panels with the new one.
d. It provides good acoustic and soundproofing in space. Its material can be chosen such that it holds noise and make the room as quiet as possible.
e. A false ceiling is a very inexpensive option for homeowners when the original ceiling has a problem related to water leakage and loose plaster fall. So, its saves ceiling maintenance cost with a new aesthetically attractive ceiling option.
f. It is an energy-enough option as it uses to decrease the heat in summer and cold in winter with low electricity bills.
---
  4. Disadvantages of False Ceiling  
The disadvantages of a false ceiling are as follows: 
a. It decreases the floor height by some inches or feet as it is attached at some gap from the original ceiling.
b. The false ceiling needs routine maintenance and it does not have a long-lasting life.
c. The sagging of the false ceiling is a problem that occurs in every false ceiling during the utility period.
d. Skilled Manpower is needed.
e. The false ceiling material is light in weight and is not solid which makes them highly risky at the time of an earthquake or any other accident case.
Educational Platform Under Naba Buddha Institute