Concrete anchors are most necessary for construction projects, delivering a protected junction between the structure and the concrete.
It is essential to acquire a fundamental knowledge of their features, installation, and types before selecting concrete anchors.
---
  1. Uses of Concrete Anchors  
The uses of concrete anchors are as follows:
a. To have a good connection between structure and concrete
b. Used to attach steel to concrete.
c. Used to combat wind and currents.
---
  2. Types of Concrete Anchors  
The types of concrete anchors are as follows:
a. Wedge Concrete Anchors
b. Drop-in Anchors
c. Double Expansion Shield Anchors
d. Hammer Drive Pin Anchors
e. Split Drive Anchor
f. Threaded Rod Anchor
g. Strike Anchor Lag Anchor
h. Tapcon Concrete Anchor
i. Kaptoggle Hollow Wall Anchors
j. Lag Shield Expansion Anchors
k. Machine Screw Angles Anchors
l. Concrete Sleeve Anchors
m. Masonry Screws
n. Plastic Toggle Anchors
o. Sammys Screws
p. Toggle Wing Hollow Wall Anchors
a. Wedge Concrete Anchors
A Wedge concrete anchor owns the wedges open and expands up to 1/16" at the anchor's base. when the bolt is tightened.
This is a male concrete anchor which is employed for attaching to the base of concrete with the usefulness of a nut and washer.
Also, wedge concrete anchors are commonly employed because it is straightforward to insert, corrosion-resistant, and among the strongest concrete anchors.
It is actually a stud made of two connected pieces one piece is threaded at the top end and the other end consists of a method that contains a wedge and clip that is expanded between the stud and the wall of the hole in the concrete.
The wedge concrete anchors are typically the best choice for heavy shear and load applications. Furthermore, heavier-duty seismic wedge anchors are employed in locations visited by seismic activities.
A few points that need to keep in mind about wedge anchors:
The holes drilled into the concrete for a wedge anchor should be equivalent to the diameter of the anchor.
Also, it is employed for solid concrete only not for stone, mortar, brick, etc.
b. Drop-in Anchors
Wedge anchors and drop-in anchors are sometimes confusing because they develop similarly, drop-in anchors are female anchors that are positioned in a pre-drilled hole.
The expander plug at the anchor's base is specified employing a setting tool which is basically a steel rod with one end necked down.
The necked-down part of the tool is attached to the drop-in anchor and tapped with a hammer until the lip of the anchor satisfies the lip of the setting tool.
Like the wedge anchor, drop-in anchors are planned for solid concrete only and can't be employed actually in brick, block, mortar, or stone.
c. Double Expansion Shield Anchors
Double expansion shield anchors deliver a powerful, incredible method to confirm almost any material, including Inconel sheets.
They develop when kept in a dug hole in the material being fastened, which makes an extremely tight grip against pressure and slackening.
This creates them perfect for materials such as Inconel sheets because they require an additional durable fastener that can remain in place even with a lot of automated force on them.
Double Expansion Sheild Anchors are viewed as the best anchor solution obtainable when it comes to challenging materials like Inconel sheets.
d. Hammer Drive Pin Anchors
Hammer drive pin anchors are an excellent key for when you require to connect an Inconel sheet to a substrate.
These special pins deliver a certain fixture that's both quick and very easy to establish, and once set, they'll deliver years of dependable assistance.
They are wonderful for benefit in marine works such as boat hulls or cabins, as well as other environments, due to their intense durability, corrosion resistance, and capacity to maintain under harsh circumstances.
Also, it's very lightweight, so you can carry it. Hammer drive pin anchors are an adaptable choice for any use that requires a secured connection between two surfaces.
e. Split Drive Anchor
These Split drive Concrete Anchors are acquired their carrying power from the source of the resilient arrangement of the piece of one anchor itself.
Also, this anchor is a male fastener with a break-expanded base. Typically, it is appropriate for light-duty works and best for block, concrete, brick, and stones base.
The most necessary things to maintain in your brain when you establish split drive, concrete anchors,
The diameter of the anchor base is equivalent to the size of the dug-out hole.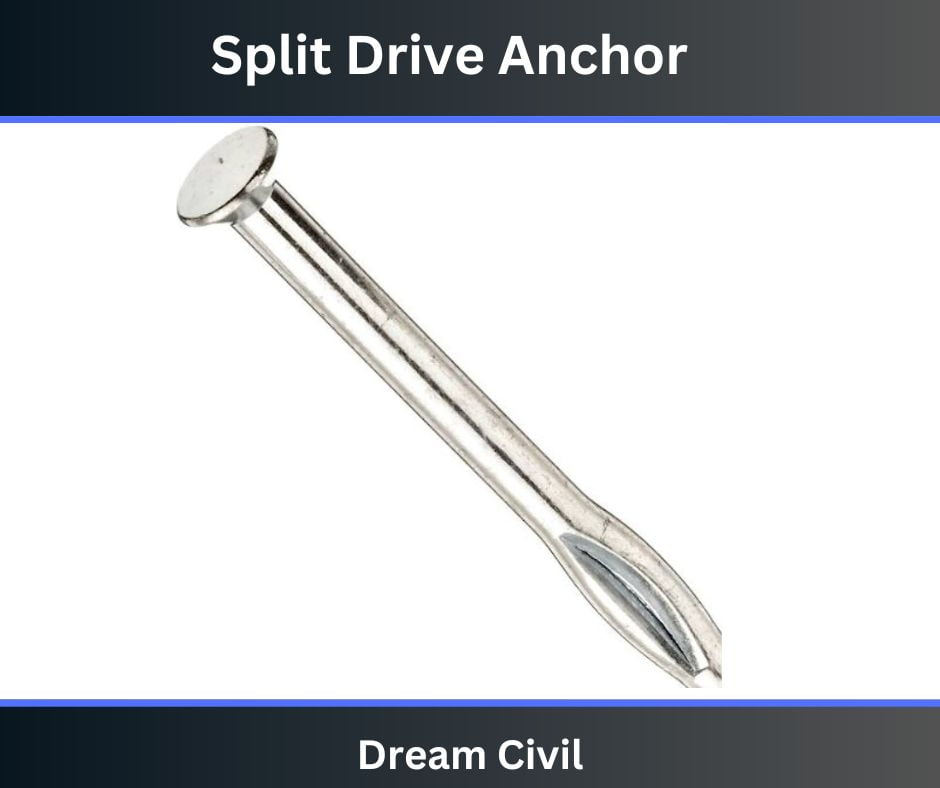 f. Threaded Rod Anchor
To secure entities to other surfaces, there are numerous choices available there to serve a range of conditions. Among the most adaptable and generally employed anchoring keys are threaded rod anchors.
These are straightforward devices that permit you to connect a threaded rod to a surface, guaranteeing it is firmly in place. Whether it's for turning lights, suspending pipes, or even scaling electrical equipment, threaded rod anchors come in a variety of sizes and styles to serve various applications.
g. Strike Anchor Lag Anchor
Strike anchors are male fasteners and it is employed to hook lightweight installation such as shelf brackets, conduit, and electrical boxes to solid concrete.
The strike anchors are an impact expansion fastener consisting of a tabular body capped by a drive pin that is expanded from the tubular casing.
When the strike anchors are inserted into the pre-drilled hole then the head of its pins is driven further into the tube via hammer strikes, expanding the tube and completing the essential hold within the hole.
The hole diameter to be drilled for the strike anchors are the same diameter as that of the anchor to be used.
Strike anchors enable long runs of fixtures to be quickly installed but once placed they are not removable.
h. Tapcon Concrete Anchor
Tapcon Concrete Anchors are one of the best when it is about to fasten materials to concrete.
These anchors employ developed manufacturing methods to make a powerful and dependable grip.
With its special thread design and intuitive establishing process, Tapcon concrete anchors are excellent for a variety of applications, containing construction, remodeling, and DIY projects.
Whether you're securing a shelving entity to a concrete wall or mounting a TV bracket, Tapcon anchors produce it straightforwardly to acquire a secure and enduring hold.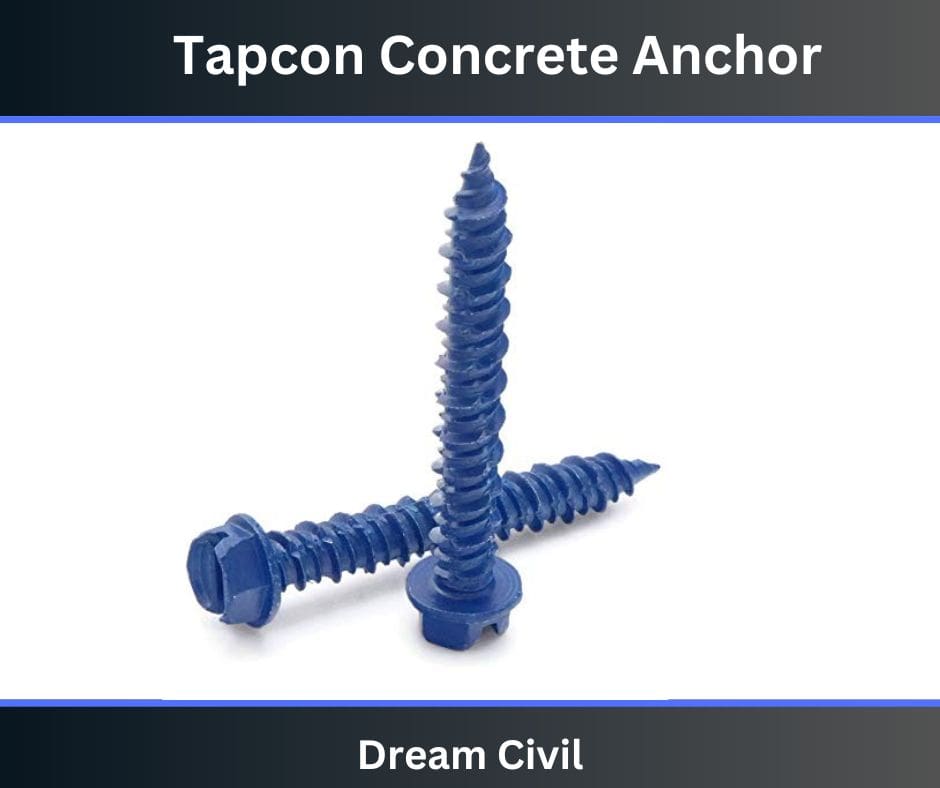 i. Kaptoggle Hollow Wall Anchors
Kaptoggle anchors deliver a protected and dependable way to scale items onto hollow walls. Constructed from Inconel steel, these specialty anchors are developed to be inserted through the wall where they thread and develop behind it to deliver a tension hold that won't stretch out.
For more dependability, the Inconel sheets make an extremely powerful hold that survives most traditional drywall mounting choices.
Kaptoggle anchors can be employed to hang shelves, clocks, pictures, bathroom accessories, and considerably more in any setting with hollow walls, providing each item remains securely in place for years.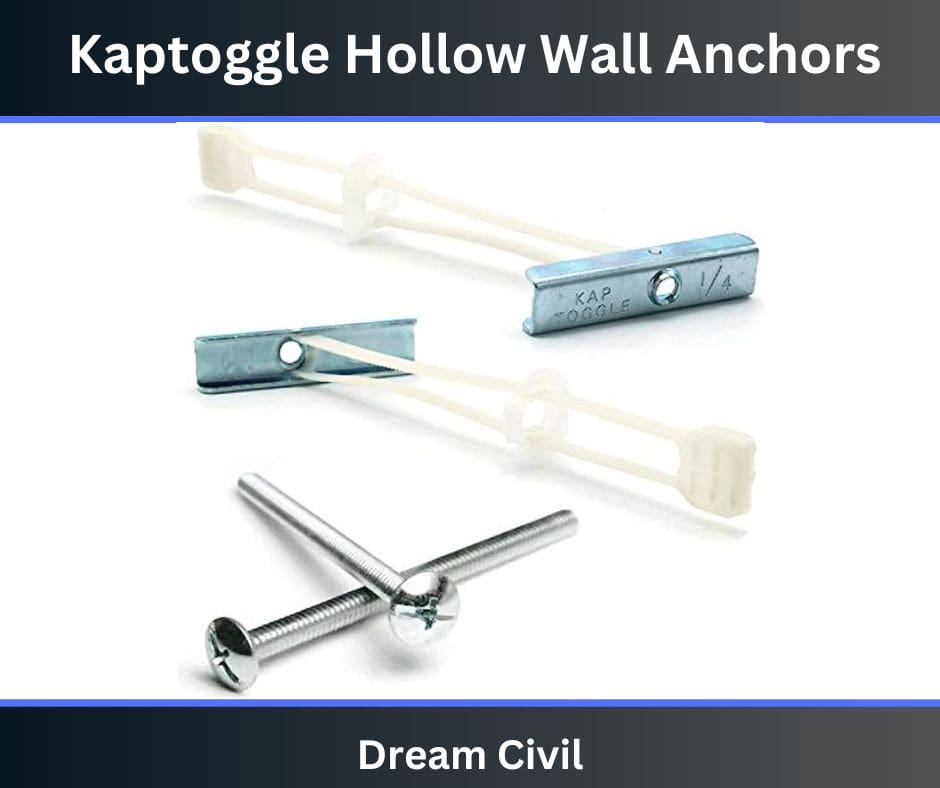 j. Lag Shield Concrete Anchors
Lag concrete anchors are female anchors and they include a sleeve that is tapered and ribbed in form and texture.
The lag concrete anchor sleeves are created of a zinc alloy and the sleeves are simple in nature.
These sleeves are positioned into the pre-making drill hole base that could be mortar, concrete, brick, stone, etc.
These lag screws are goes inside and expand that zinc material sleeve, and then trimmed the threaded portion of the anchor.
That lag concrete anchors are packed inside the exterior wall of the base materials. Relying upon the diameter of a bolt that is assumed to go inside the screw then the lag concrete anchor is prepared according to their implanted length.
Typically, the longer lag anchors are holding a more powerful and good grip that maintains the base material.
Another side the lag concrete anchor is small then it is dense and hard.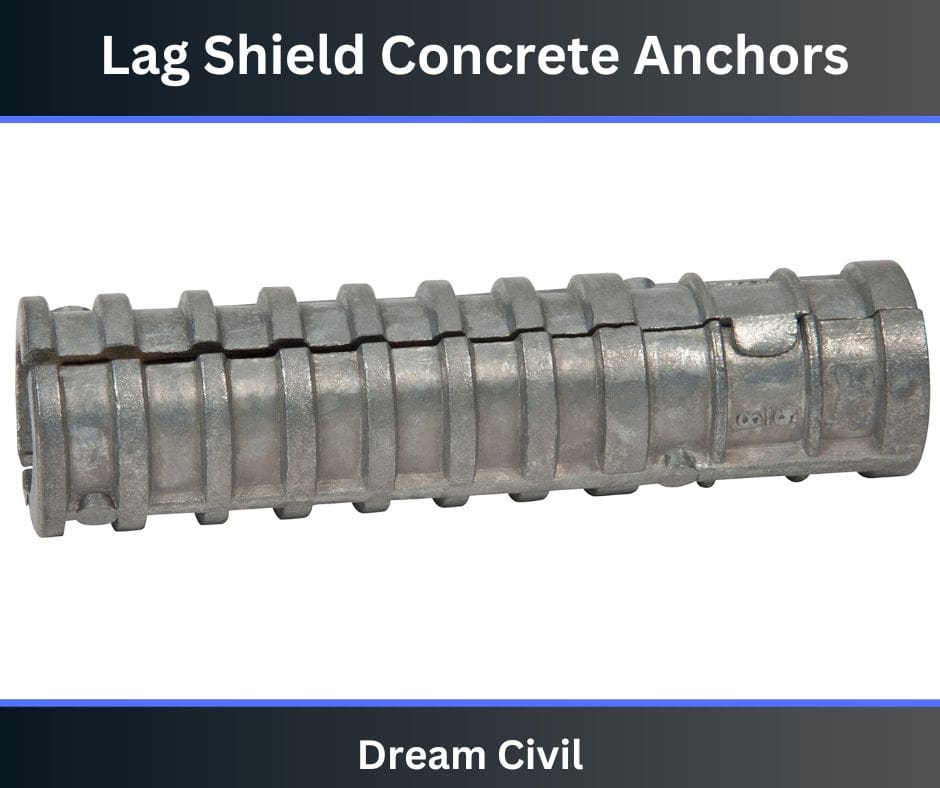 k. Machine Screw Anchors
Machine screw angle anchors can be employed to ensure Inconel sheet structures due to their superior load-bearing capability.
Made from heavy-duty materials like carbon steel and stainless steel, these anchors are also admiringly corrosion unsusceptible, so they stay sturdy and long-lasting in outdoor surroundings. The threading of the screws permits for a secure fastening and assists in controlling the side rotation of the Inconel sheet.
In addition to making a sturdy structure, machine screw angle anchors are incredibly easy to establish, needing only a few easy actions.
With their versatility and reliability, machine screw angle anchors create an outstanding option for building Inconel sheet structures.
l. Concrete Sleeve Anchors
Concrete Sleeve Anchors are male fasteners. It consists of a threaded bolt covered by an expander sleeve at the top end and a washer and nut at the next end.
The Sleeves anchors are threaded through the installation and into the pre-drilled hole in the concrete, stone, brick, and mortar.
The act of turning the bolt on the nut tightens the bolt up through the sleeves pushing the sleeve to flare out up to 1/8".
m. Masonry Screws
Masonry screws are an ideal alternative for securing Inconel sheets jointly. Their excellent corrosion resistance ensures that the task will stay intact no matter the circumstances it is open to.
In addition to their widespread durability, masonry screws are made difficult to actually hold onto Inconel sheets and maintain them secured in place.
n. Plastic Toggle Anchors
Plastic toggle anchors are an important tool for numerous construction projects as they deliver a protected and dependable way to connect various materials together.
Constructed of polypropylene and featuring corrosion-resistant Inconel features, plastic toggle anchors provide protected fastening actually in tough moments.
Most useful on drywall or other substrates like metal panels and masonry, these anchors are connected through a simple two-part assembly where the Inconel elements are attached to the wall while the plastic carries tight from the different sides.
Not only are plastic toggle anchors inexpensive, but they're also simple to use and easy to reposition if needed. Their versatility makes them ideal for indoor and outdoor applications alike for even the toughest jobs requiring both strength and flexibility.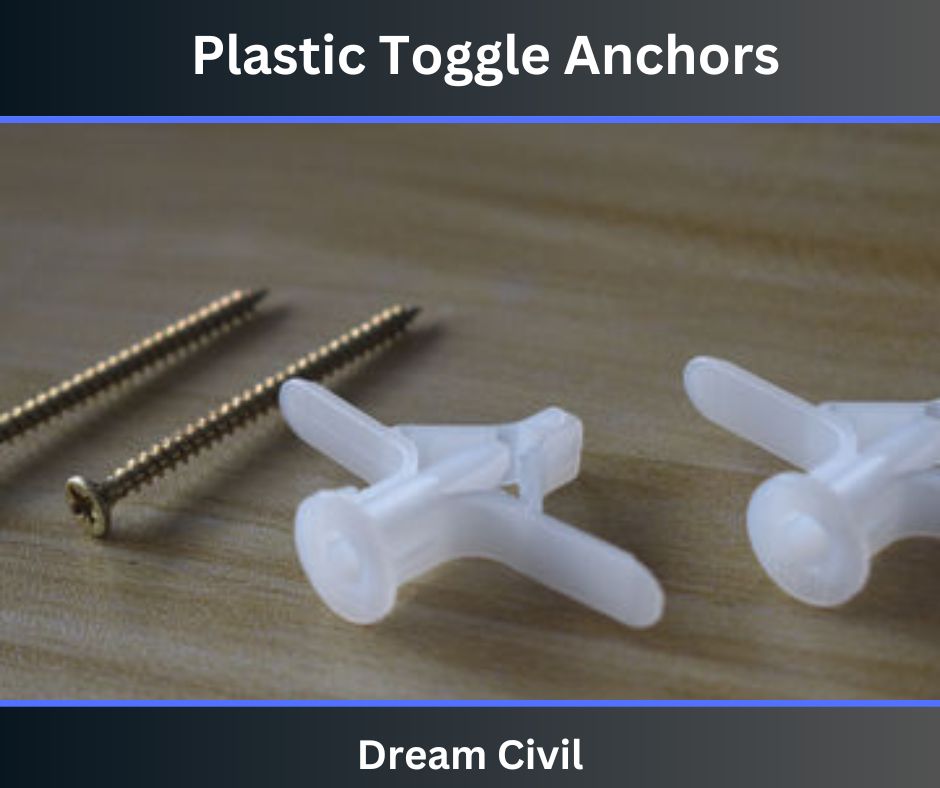 o. Sammys Screws
Sammy Screws are the exclusive option for Inconel sheet fastening. Made from premium grade Inconel, Sammys ensures that their screws will maintain in the face of harsh environmental requirements, including high temperatures and corrosive atmospheres.
Each screw is developed with an additional sharp point which pushes them easily penetrate even the toughest sheets without compromising their stability or durability.
When you require a reliable Inconel sheet fastening solution, Sammy Screws are exceptionally well.
p. Toggle Wing Hollow Wall Anchors
Toggle wing anchors are two-piece fasteners that are prepared to make an anchor point on an otherwise hollow wall. They are basically wall anchors. Also known as toggle bolts, they include a rod and a pair of wings.
---
  3. Installation of Concrete Anchors  
The following actions are considered for establishing concrete Anchor are as follows:
a. Select the correct size of Concrete Anchor
Concrete anchors are available in different sizes, so you'll require to select the proper size for the project. Understanding the thickness of the concrete and the size of the entity being attached when choosing the dimensions of the anchor.
b. Draw a mark on the placement of the Anchoring
Employing a pencil or marker, always mark the placement of the anchor on the concrete surface. Ensure the spots are level and spaced perfectly.
c. Drilling Holes
Employing a hammer drill and masonry bit, dig a hole into the concrete where you drew it. The size of the hole should approximate the size of the anchor being employed.
d. Clean the Anchoring Holes
Employ a brush or vacuum to clear any dust or debris from the hole.
e. Insert the anchor
Set the anchor into the hole, completing sure it's level and securely in position.
f. Secure the object
Set the object you like to secure onto the anchor and tighten the nut or screw to fasten it in position.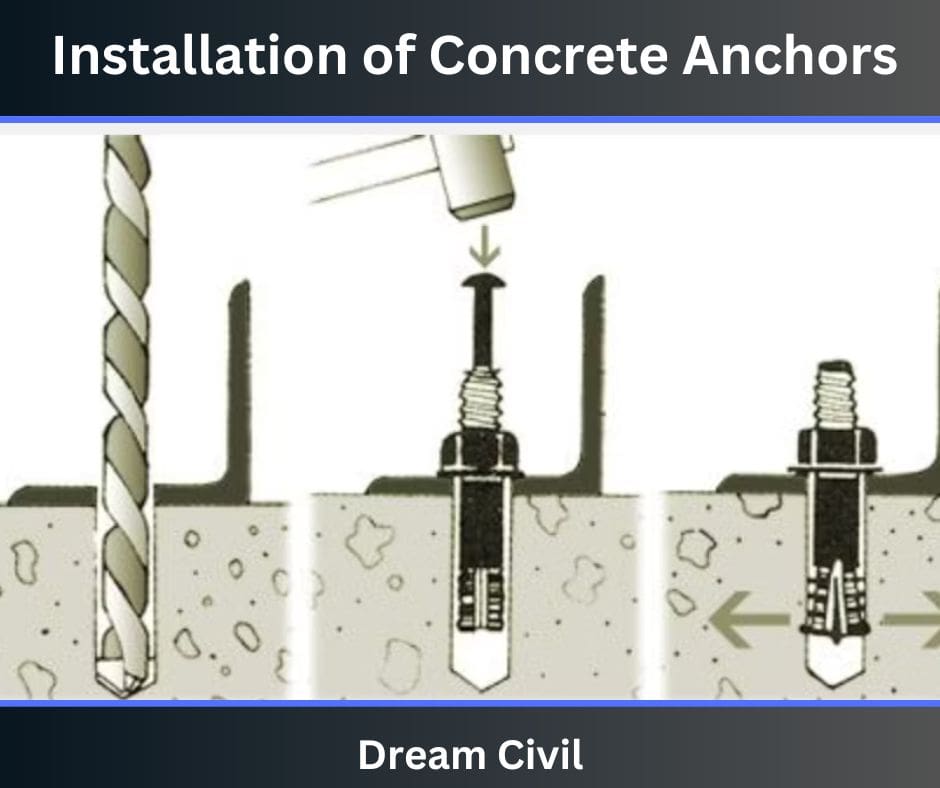 ---
  4. Maintenance of Concrete Anchoring  
Here are some tips for maintaining concrete anchors:
a. Periodic inspection
Have a time-to-time inspection of concrete anchors to confirm they are in satisfactory state and operating correctly. Inspect for any indications of wear and tear, rust, or corrosion, and substitute the anchors if required.
b. Tighten Loose Connections
If you notice that the connections between the object being attached and the anchor are evolving loose, tighten them to control the object from moving.
c. Clean the Anchors
Dirt and debris can collect on concrete anchors over time, so it's essential to sweep them regularly. Employ a wire brush to clear any rust or debris, and then clean the anchors with mild detergent to maintain them looking fresh.
d. Protect from the Elements
If the concrete anchors are discovered in an area that is uncovered to the elements, assess protecting them with a coating of rust inhibitor or any other protective material.
e. Proper Storage
When not in service, store concrete anchors in a dry, covered spot to control rust and corrosion.
---
  5. References  
1. Content Filter & Authenticity Checking Team, Dream Civil International
(Our team checks every content & detail to maintain quality.)
---
Read Also: Types of Concrete Admixtures