Summary:
Fences are the boundary or privacy walls that are constructed around the building for improving the appearance, privacy and security.
Fences are mostly made from stones, bricks, wood, aluminium, iron, vinyl, GI wires, etc. 
Commonly, fences cost around 15 $ to 100$ per linear foot to construct.
Wooden, Chain-link, aluminium and vinyl fences are the most used types of fences in the US & Europe.
Masonry fences like brick wall fences, stone wall fences and iron fences are mostly used in Asian countries like India, Nepal, Pakistan, Bangladesh, etc.
 Fences are the boundary or privacy walls that are constructed around the building for improving the appearance, privacy, and security.
---
  1. Types of Fences  
There are different types of fences available in the market. The types of fences are as follows:
a. Brick Wall Fence
The brick wall fence has been utilized for ages to build privacy, give security to the building, and give an accent to the house.
The types of fences that are commonly used can be seen around many houses, offices, institutions, or other buildings.
Brick wall types of fencing are durable, solid, and long-lasting, they bring style and class to the fencing which any other materials can't provide.
To make the construction cheap you can utilize third-class bricks. It helps to block noise from busy streets if you are living near a highway or a busy road.
b. Aluminum Fence  
Aluminum fencing is considered for commercial use for its long-term functionality. Aluminum material needs very little maintenance and is effortless to clean.
The initial cost of aluminum fencing is high than that of most materials when aluminum is relatively low-maintenance and easy to install.
The aluminum fence does not provide strength and security like other fence types because, this material is very lightweight, making it easily bendable from contact or even a strong wind.
c. Wooden Fence  
Good quality wooden fencing will need less maintenance and is less likely to require replacement.
The mean life period of wooden fencing material ranges from 10 to 30 years, based on the quality of the installation, and type of wood.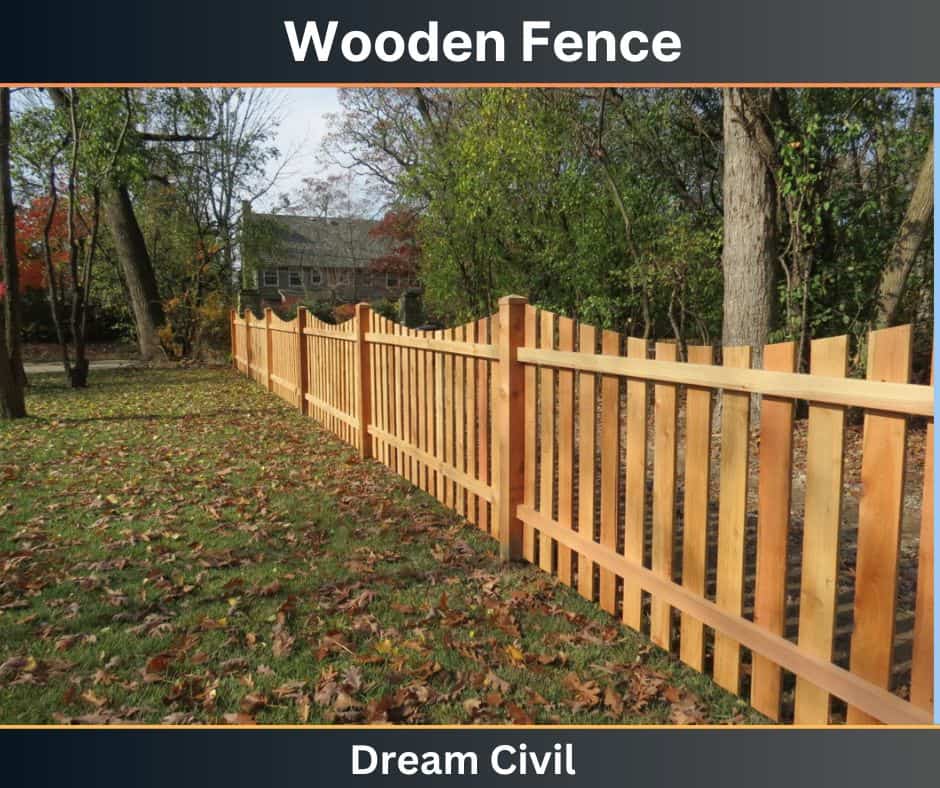 The most popular woods utilized for wooden fencing are pine, cedar, and redwood are also the best options.
Install wooden fencing with a water-proof solution to save it against dampness & excessive low or high temperatures.
d. Iron Fence
Iron fencing is used to make a different and personalized solution.
This material is heavy in weight so, it permits a high level of customization since it is very malleable. It is also demanding significant maintenance when utilized for fencing.
The iron or steel material requires regular maintenance, repainting every two to three years, and is put through rusting & corroding.
e. Chain–Link Fence
Chain–link fence is mostly utilized in construction projects and industries due to their affordable price and low maintenance nature.
The installation process of this type of fencing is quick and easy. These fences are suitable for a few types of applications or purposes.
f. Bamboo Fence  
Bamboo fencing is found in the market in various shapes either rolls or panels. Bamboo fencing is best for covering an existing wall, wooden, or mesh panel.
These types of fencing are batter as fence panels and partitions to make more privacy between two properties or gardens.
g. Barbed Wire Fence
Barbed wire fence is prepared of steel and is generally used for the purposes of sheltering cattle and livestock away from the house.
This fencing is one type of rolled & twisted wire that is unlike a normal galvanized wire in that its strands are twined together instead of intertwined with one another.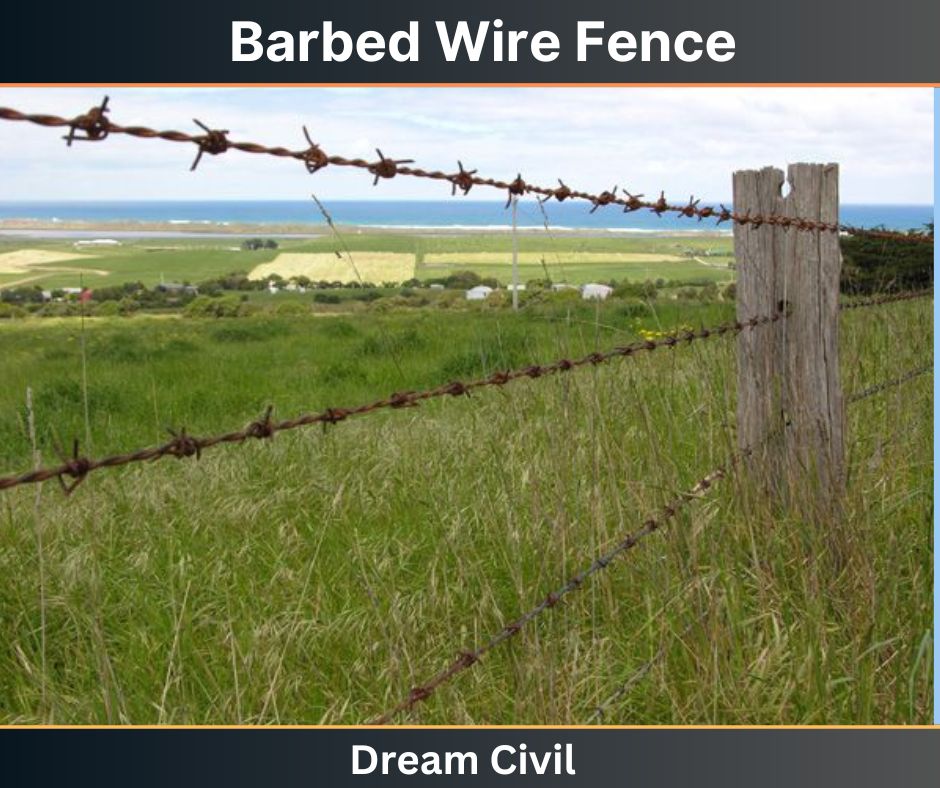 h. Electrified Fencing  
An electrified fence is mostly prepared from thin steel or aluminum. It is fitted to provide trespassers with a shock when it is encountered in restricted areas.
Electrified fences are mostly installed for agricultural purposes and provide just adequate voltage to make the being touching it uncomfortable.
It is also utilized in other applications such as for commercial or industrial uses, which may be created to shock the offender.
 i. Vinyl-coated wire fencing  
Vinyl–coated wire fences are found in standard colors like black or green. This is one type of wire fencing too which a vinyl covering has been used after welding and weaving.
A vinyl–coated fence seems pleasant and lasts for a long time because the wire is made by both galvanized coating and vinyl.
j. Living Fence
Shrubs and trees are planted at regular intervals to make a continuous screen called a living fence.
This fence is serving the various purposes of a compound wall, giving protection from high winds, ensuring privacy, and forming a background screen for a flower garden, vegetable garden, etc. It can also be a good place for insects and animals to hide which might be scary and dangerous.
---
  2. Importance  
Here is the importance of Fences is as follows:
a. It provides security to Building.
b. It creates a boundary.
c. It provides privacy and adds aesthetic beauty.
d.  It helps to increase the value of the property.
---
  3. Uses  
The uses of the fences are as follows:
a. It is used to create boundaries.
b. It is used to increase the security of property.
c. It is used to add aesthetic beauty.
d. It is used as a sound barrier.
---
  4. Advantages  
The advantages of fences are as follows:
a. Noise reduction
b. Security
c. Containment
d. Privacy
---
  5. Disadvantages  
The disadvantages of fences are as follows:
a. Needs regular maintenance.
b. Expensive
c. It can create conflict with neighbors.
d. It can be a place for insects to hide.
---
  6. References  
1. Content Filter & Authenticity Checking Team, Dream Civil International
(Our team checks every content & detail to maintain quality.)
---