Standard Door Sizes | Hall, Bedroom, Study room, Bathroom, Kitchen and Garage
In this article, we will discuss the standard door sizes.
  1. Introduction  
The door may be defined as a framework of wood, steel, aluminum, glass, or a combination of these materials secured in an opening left in a wall for the aim of giving access to the uses of the structures.
Types of buildings
Size of the door in mm
1. The door of Residential Building

(a) External Door

(b) Internal Door

(c) Door for Bath or W.C.

1000×2000

900×2000

800×2000

2. Doors of Public Buildings such as School Hospital libraries etc.
1200×2000

1200×2100 Or

1200×2250

3. Doors of Garage
2250×2250
  2. Consideration  
Things to be considered while choosing doors:
a. Always choose a door that reflects your architectural style.
b. Decide where you need to keep your door before choosing door types.
c. At first decide how much light, movement area, ventilation is required for your room.
d. Always choose doors that increase the aesthetic beauty and freshness of your room.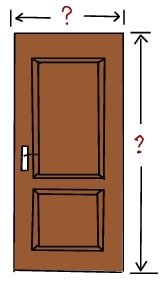 3. Standard Door Sizes for Living Room  
| | | |
| --- | --- | --- |
| Inch | Feet | MM |
| 78″ x 24″ | 6.5′ x 2′ | 1981.2 x 609.6 |
| 80″ x 32″ | 6'8″ x 2'8″ | 2032 x 812.8 |
| 96″ x 72″ | 8′ x 6′ | 2438.4 x 1828.8 |
  4. Standard Door Sizes for Bedroom  
| | | |
| --- | --- | --- |
| Inch | Feet  | MM |
| 80.4″ x 32.4″ | 6.7′ x 2.7′ | 2042.16 x  822.96 |
  5. Standard Door Sizes for Bathroom  
| | | |
| --- | --- | --- |
| Inch | Feet  | MM |
| 30″ x 80″ | 2.5′ x 6.7′ | 762 x 2042.16 |
  6. Standard Door Sizes for Hall  
| | | |
| --- | --- | --- |
| Inch | Feet  | MM |
| 42″ x 84″ | 3.5′ x 7′ | 1066.8 x 2133.6 |
  7. Standard Door Sizes for Kitchen  
| | | |
| --- | --- | --- |
| Inch | Feet  | MM |
| 36″ x 80″ | 3′ x 6.7′ | 914.4 x 2032 |
Educational Platform Under Naba Buddha Institute