A mezzanine floor may bed defined as an intermediate level between the main floor and the ceiling of a building, commonly established to construct more floor area without the necessity for a complete building expansion.
Mezzanine floors can be made from various types of materials, including steel, concrete, and wood, and can be changed to suit the specific requirements of your company.
---
  1. Mezzanine Floor  
The mezzanines are constructed to employ wasted vertical space, providing additional space above and below, as well as can be created independently of existing buildings. The well-planned, designed, as well as established mezzanine floor suits a particular and well-defined objective.
An additional level between two stories, commonly between the ground and first floor to employ area effectively.
Although mezzanine flooring is mainly employed to deliver extra storage space, it is equally employed in production, office space, distribution, and the extension of retail areas.
---
  2. Features of Mezzanine Floors  
Mezzanine floors are made halfway up the wall on a floor with a ceiling minimum twice the minimum height of the floor. It is not counted as a floor in the building and is not formed when choosing the maximum floor space.
As per the International Building Code, a mezzanine floor should own at least one-third of the floor space of the floor under it. When there are two or more mezzanine floors available in the house, the sum of areas of floor space of mezzanines must not be greater than one-third the full of floor room of the complete floor below.
They are employed in modern architecture that shows the importance of light and space. It is mainly employed in retail circumstances to increase the storage space or boost the selling space. It is nowadays employed in residential houses and libraries as a decorative element.
Mezzanine floors are employed in current architecture that provides a preference for light and space. It is primarily utilized in the retail environment to expand the storage space or boost the selling space. It is nowadays employed in residential buildings and libraries as a decorative element.
---
  3. Types Of Mezzanine Floor  
There are many types of mezzanine floors found in the market, each is appropriate for special usage.
The types of mezzanine floors are as follows:
a. Steel Mezzanines Floor
b. Concrete Mezzanines Floor
c. Wooden Mezzanines Floor
a. Steel Mezzanine Floor
The steel mezzanine and the equipment platform could be made as free-standing structures utilizing bolt-together fabrication for easy installation inside a current structure.
As a result, steel is an excellent material for establishing the mezzanine floor in an existing space.
The advantages of steel mezzanine floors are as follows:
a. Improve Strength
b. Need Low Maintenance
c. High Moisture Resistance
d.High durability
b. Concrete Mezzanine Floors
Concrete mezzanine floors are one of the most long-lasting types of mezzanine floors. They possess the capability to bear heavy loads due to which they have achieved hype in industrial and high-capacity military use where the mezzanine is permanent.
A few of the merits of concrete mezzanine floors are as follows:
a. Negligible noise transmission via the floor deck.
b. Increased fire resistance
c. The high thermal mass of concrete floors reduces the energy needed for thermal comfort
d. Require Low-cost maintenance
e. Advanced damp opposition
f. Construction is quick with advanced stiffness
c. Wooden Mezzanine Floor  
The wood mezzanine flooring is very effortless to construct and has a terrific look, as well as expanded durability which makes it long-lasting.
Wood mezzanine flooring is famous due to its attractiveness, elegance, and comfort, which includes worth to the structure because of its gorgeous look and simplicity of cleaning, it is appropriate for supplemental shop space or offices.
The essential advantages of wooden Mezzanine Floors are:
a. Good strength and durability
b. Treated hardwood for mezzanine floors last for years
c. Carry heavy foot traffic and active workspaces
d. Easy installation
e. Can be cleaned easily
f. Provide better acoustics
g. Improve indoor quality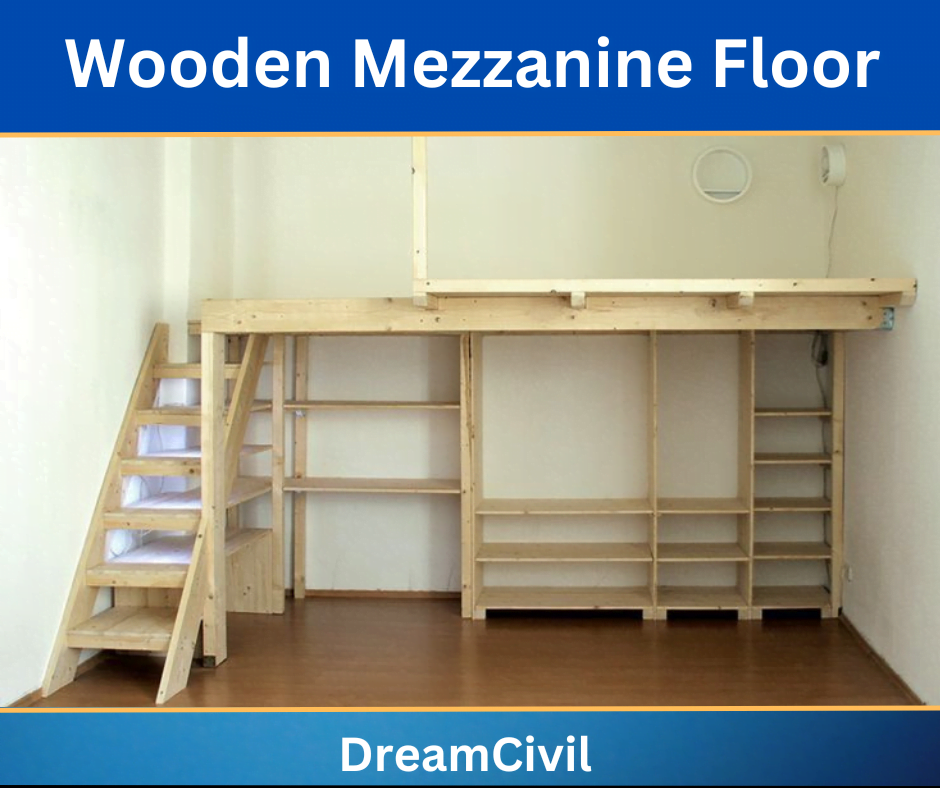 ---
  4. Properties of Mezzanine Floors  
The most important feature of the mezzanine floor is when we need to increase a workplace in a small area then we construct mezzanine floors.
Another characteristic of the mezzanine floor is by mezzanine you can make extra floor area and assist to construct ceiling space feel less and personally extensive.
Another feature of the mezzanine is in the construction site mezzanine provides a comfortable work environment and good workspace.
Minimum twice as high as a floor with minimum height on a ceiling the mezzanine floor is set halfway up the wall on a floor.
The characteristics of the mezzanine are that it delivers a second level that is an open space that is employed for multi-purpose like offices, bulk storage, employee cafeterias, and many more. For a vast array of intents, the mezzanine can be employed.
---
  5. Mezzanine Floor Design  
Here, two different types of mezzanine floors design are as follows.
a. Freestanding Mezzanines
b. Rack-supported Mezzanines
a. Freestanding Mezzanines
The free-standing mezzanine provides total utilization of the mezzanine level and the ultimate usage of floor space.
Up to 40 ft or more column-span the free-standing mezzanine are found in the market. The free-standing mezzanine design permits sprinkler pipe, lighting, electrical conduit, and HVAC ductwork to efficiently form the structural framework.
And it is also planned to improve usable space on the ground floor and destroy overhead obstructions. If the whole system requires to modify as compared to rack supported mezzanine in the event of the equipment layout modification it gives the most flexibility.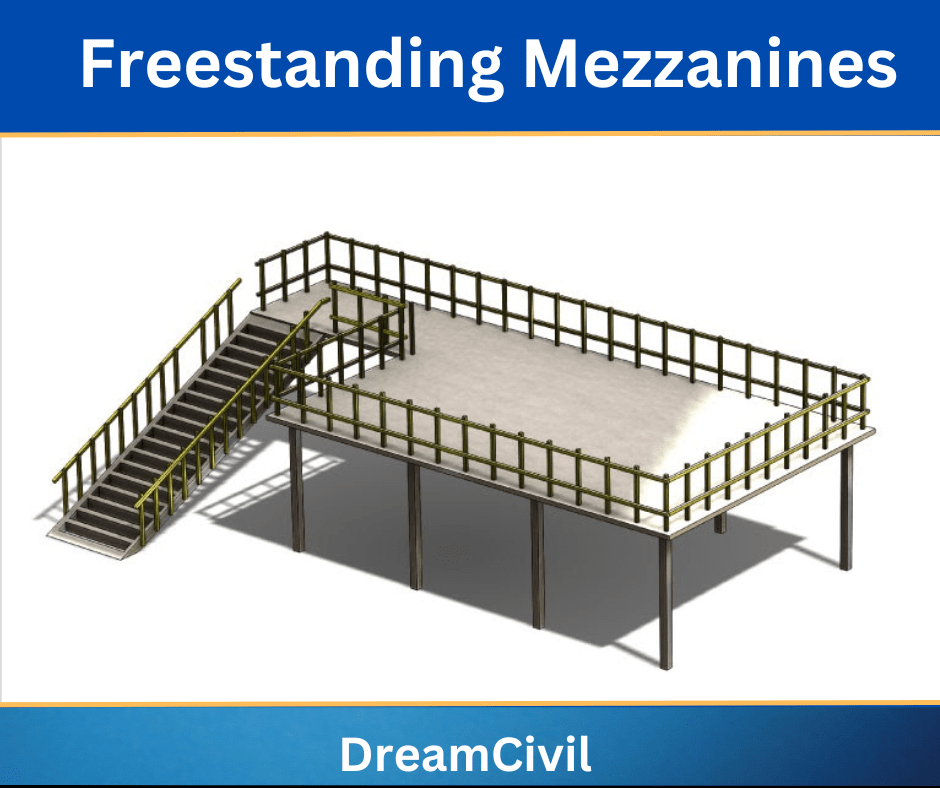 b. Rack Supported Mezzanines
The rack-supported mezzanine is constructed either partially or fully supported by racks or shelves.
It is commonly designed in two ways which are below.
i. Catwalk
The catwalk mezzanine is designed to increase the rack storage areas or tall shelving. The mezzanine floor allows the catwalk to extend from the mezzanine floor to the upper areas of the racks.
In mezzanine floors where needed extra support between both under areas and shelves there supported column should be provided for additional support.
ii. Full Mat
The full mat mezzanine is made in a variety of both catwalk styles and free-standing styles. And it is fully backed by racks or shelves the height of the shelves should not surpass the mezzanine floor.
And in the other area is open space that is employed for multi-uses like offices, bulk storage, employee cafeterias, and more.
---
  6. Advantages of Mezzanine Floors  
The main advantages of mezzanine floors are:
i. They improve the room of the interiors.
ii. They can be established easily, causing the tiniest disturbance to the business.
iii. The available space is employed by more useful organizing, which enhances the business output and implementation.
iv. They can be driven portable or fixed relying on the need.
v. They deliver outstanding fire protection and lighting choices.
---
  7. Disadvantages of Mezzanine Floors  
The disadvantages of mezzanine floors are as follows:
i. Posts that can disrupt the walking area.
ii. A second-floor mezzanine is just like holding another floor on beams.
iii. Configuration of the ground floor works spaces is to be reanalyzed.
---
  8. References  
1. Content Filter & Authenticity Checking Team, Dream Civil International
(Our team checks every content & detail to maintain quality.)
---
Read Also: Duplex