In this article, we will discuss the Efflorescence Test on Bricks.
  1. Introduction  
Efflorescence simply means the appearance of white-colored powder material on the surface of the bricks.
The alkaline salt present in the brick absorbs moisture from the air which on drying leaves powder deposited on the surface.
It is also caused if pyrite was present in clay used for brick making and water used for pugging contains gypsum.
  2. Efflorescence Test on Bricks  
The efflorescence test on bricks is carried out to check the presence of alkaline substances.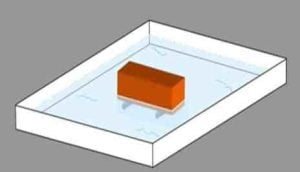 2.1. Materials Required  
a. Distilled water
b. Brick specimens
  2.2. Procedure  
(a) Take five bricks randomly.
(b) Place the end of the bricks in the dish. Note that the depth of immersion of bricks should be below 2.5 cm in each case.
(c) Place the above arrangement in a warm (18°C to 30°C) room that has sufficient ventilation.
Let the water in the dish be absorbed by the specimens and the surplus water evaporate.
( Excessive evaporation should be avoided by covering the dish containing bricks with a cubical glass cover. )
(d) Then put the same amount of distilled water as previous when the bricks look to have dried. Repeat the same process and let the water be absorbed and evaporate.
(e) At the last of the second drying, each brick is looked for efflorescence.
  2.3. Result  
The efflorescence is noted only by qualitative words as follows:
a) Serious:
The salt deposition is all over the brick and quite heavy and goes on increasing with repeated wetting and drying.
Powdering of salt is prominent.
b) Heavy:
Salt deposits more than 50 percent of the surface area of the brick.
The proneness to powder is not present.
c) Moderate:
Salt deposits over 10-50 percent surface area of the brick.
The salt makes thin layers without showing any proneness to peel off in flakes or become powdery.
d)Slight:
Salt over the surface area of the brick is less than 10 percent and forms only a very small sticky layer on brick.
e)Nil:
There is no deposit of any salt seen even after repeating the process again and again.
Note: 
It is needed that efflorescence should not be more than the specified degree in different classes of bricks. For example, it is needed to be nil, in Heavy Duty bricks and it should be only slight, for first-class bricks.
  2.4. Precautions  
a. Handle brick carefully.
b. The depth of immersion of bricks should be below 2.5 cm.
c. Excessive evaporation should be avoided during the test process.