Are you looking for ways to improve your home without breaking the bank? Look no further! We've gathered some amazing home improvements that will benefit all aspects of your home, from energy efficiency to convenience, without requiring a large financial investment. Read on and get ready to upgrade your life!
---
  1. Introduction  
✔ When looking for ways to improve your home, it's easy to become overwhelmed with the number of changes you can make.
Fortunately, there are many simple and cost-effective home improvements you can do that will have a lasting impact on your home, your comfort, and your wallet.
✔ Whether you want to increase the value of your home or make it more energy efficient, the improvements mentioned below are a great place to start.
✔ Smart home improvements can offer many benefits to any homeowner, from improved security and comfort to higher energy efficiency and cost savings. Some home improvements can even lower your home insurance premiums also.
A smart home is one that can proactively respond to your current needs and the environment with both short-term and long-term benefits.
While most of the advantages come over time, some smart improvements can make an immediate difference in the quality of your daily life.
---
  2. Home improvement strategies that can help you in many ways  
  a. Automated Heating, Ventilation, and Air Conditioning (HVAC)  
✔ Automated thermostats connect to a central HVAC system, allowing homeowners to control their indoor climate without ever having to manually adjust the thermostat.
✔ This kind of system has been likened to having an internet connection in the home, as it links all your connected devices together into a "smart" environment that responds to your current needs at any given moment.
  b. Smart Home Security Measures  
✔ Installing automated locks on doors and windows or installing security cameras outside of a home will provide enhanced security for both residents and visitors at all times.
✔ Furthermore, some systems now feature facial recognition software so that each visitor is not only identified but is also monitored for any suspicious activity before access is granted.
  c. Automatic Home Lighting Control  
✔ Automated lighting systems allow you control multiple light sources from one central control unit or through voice commands from Alexa or Google Home platforms with just a few words spoken aloud. Such systems not only save energy costs but also lower maintenance costs as bulbs last longer when used judiciously instead of constantly on full power (saving you from constantly replacing bulbs).
  d. Smart Smoke Detectors  
✔ Smoke detectors equipped with smart features allow for greater monitoring of smoke conditions – giving homeowners more peace of mind when it comes to potential fire hazards in their homes – as well as more efficient response times when alerted by smoke detector sensors around the house; this helps minimize property losses due fire incidents while boosting safety measures across premises occupied by families or employees alike.
  e. Smarter Energy Management Through Solar Panels  
✔ Installing solar panels around your home can provide numerous advantages; beyond providing clean renewable energy sources such as solar wind power, these installations also help reduce electricity bills since they draw energy directly from the sun without needing external power sources like coal plants or natural gas sources; they are also easy to install and require no maintenance after initial installation so you don't have worry about replacing components.
  f. Increase Insulation  
✔ Applying extra insulation in walls and attics prevents heat or cool air from escaping, reducing your energy costs. This also keeps temperatures higher or lower for longer periods of time so you don't have to adjust thermostat settings as often.
  g. Replace Outdated Appliances  
✔ Many newer models of washing machines, dishwashers and even refrigerators use less energy than older models, which will help reduce your utility bills. As a bonus, these appliances often feature added bells and whistles to make your life easier!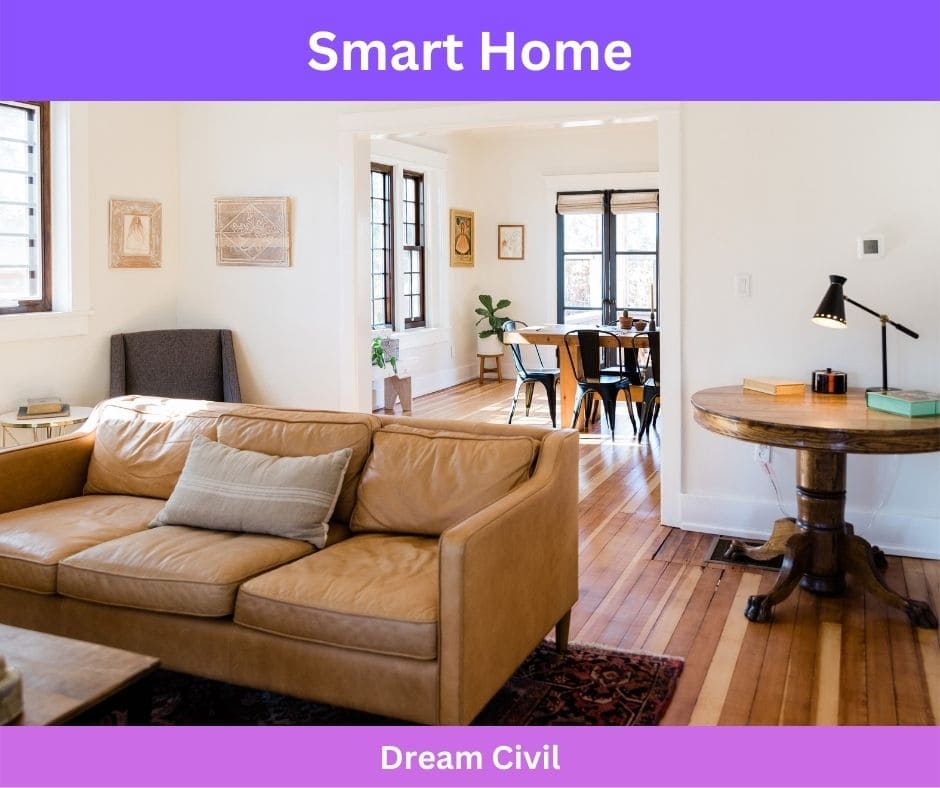 h. Add Weatherstripping  
✔ Sealing gaps around doors, windows and other areas where air may be leaking out of your home will prevent hot or cold air from escaping through those leaks during extreme temperatures, helping regulate overall climate control within the home.
---
  3. Types of Smart Home Improvements  
The types of smart home improvements that can help you in many ways will depend on your specific goals and budget. Generally speaking, there are five broad categories of smart home improvements that most people look into:
✔ Energy-efficiency improvements: This includes adding insulation to keep air from escaping, installing weatherstripping around doors and windows, replacing aging appliances and updating fixtures with energy-efficient models. These improvements can lower utility bills and reduce environmental strain over time.
✔ Security upgrades: Adding security systems or cameras give homeowners peace of mind and can deter criminals by solving the problem before it ever starts. Motion-sensing lights are another great way to add security as they light up at unexpected movements in your yard or near entrances.
✔ Smart lighting: Automating lighting systems decreases electricity bills by using only lights when required in a space. Smart bulbs can be remotely controlled from a phone or voice command, allowing for easy customization of lights depending on moods or events like movie nights or parties.
✔ Smart thermostats: Smart thermostats reduce energy use with automated temperature control, enabling you to adjust settings without leaving the house. This ensures comfort during winter months without wasting resources when no one is around.
Other types of smart home upgrades include water sensors (which detect potential floods), exhaust fans (reducing humidity) and automation integrations (to automate repetitive tasks). These renovations provide convenience by building efficiency into daily life, creating synergy between technology and comfort while helping the environment too!
---
  4. Cost of Smart Home Improvements  
✔ When considering smart home improvements, it is important to understand the potential costs associated with them. In some cases, the cost of equipment and installation can run high; but in others, the associated savings may help offset these expenses. Before starting any project, it's essential to consider factors like existing insulation levels in your home, utility rates in your area, and estimated energy savings potential.
✔ Smart home technologies can also come with additional costs such as purchasing new devices and/or an upgraded Internet connection if you're adding a Wi-Fi network for remote access to certain systems or products. Make sure you factor in fees for service contracts or extended warranties for certain products, too.
✔ Finally, professionals should be hired for some projects especially when electrical work is required or when the job requires expertise beyond the homeowner's level of capability. Knowing all the possible costs before beginning your project will help you create a budget that works best for you and your family.
---
  5. Factors to Consider When Choosing Smart Home Improvements  
Home improvements can be an exciting way to boost your home's value and make it more energy-efficient and enjoyable. But, with all of the options available, you'll want to be sure to consider the following factors before you commit:
✔ Budget: Determine how much money you can realistically invest in home renovations. When considering any improvement project, ensure that it fits within your budget so that you don't end up overspending.
✔ Timeframe: Establish a timeline for your project. If time is of the essence, determine which projects will take longer and budget extra time into the timeline accordingly.
✔ Goals: Consider what type of improvements are necessary to achieve your goals. Whether it's increasing curb appeal or addressing safety concerns around the house, determine the improvement project that will provide maximum benefit for minimal cost.
✔ Quality: Establish a baseline for quality by researching local contractors and product reviews online. Set a standard for how involved you would like to be during installation process if applicable and ensure that each part of improvement process aligns with your standards of quality.
✔ Returns on investment: Evaluate whether potential improvements may have promising long-term returns on investment such as increased property value or increased energy savings due to greater efficiency in insulation or mechanical systems.
Quicker returns might include improved aesthetic or liveability such as better lighting fixtures or plumbing system upgrades, while longer-term investments could include roofing replacement or siding upgrades.
---
  6. Tips for Making Smart Home Improvements  
Making smart home improvements can provide many benefits from greater convenience to lower energy and water bills. Here are five tips to help you plan and execute the right improvements that can provide the most value and satisfaction.
1. Prioritize: Before making any improvements, carefully consider what will work best in your home and what results you hope to achieve. This includes looking at the time and money available, existing features in your home, any restrictions you may have due to local building codes, etc. This will guide you in making decisions on which improvements to make first.
2. Get Expert Advice: It may be wise to consult a trusted contractor or professional designer to get advice on changes that need to be made prior to starting a project. Be sure that any contractors or other third parties are properly insured before entrusting them with work in your home.
3. Careful Selection: Select materials for improvement based not only on cost but also their sustainability rating, which can help reduce energy costs over time by improving insulation or increasing light reflectance levels from fixtures or painted surfaces within the house.
It pays off if materials used meet established standards of quality such as Energy Star-certified replacement windows, as prescribed by government programs like Title 24 Building Energy Regulations for California homes this helps ensure the long-term performance of newly installed components and systems in the home increases their expected lifetime use for resale value retention reasons as well as maximum comfort outputs expected at the time installation was completed correctly.
4. Planning Ahead: When planning larger projects like kitchen remodels or room additions take into account any special needs now like wheelchair ramps or wider doors or those that may arise later with access issues due to health limitations of aging homeowners who eventually want designs tailored specifically for such eventualities this way improvements are handled cost effectively without having unexpected construction nightmares down the line.
Considerations like future access should be taken into account when replacing bathrooms with walk-in showers versus bath tubs and strategically placed grab bars/handrails near toilets & sinks etc., these choices drastically improve safety & convenience factors when remodeling well thought out priorities at start of project but may add unforeseen costs if an afterthought instead of part pf initial construction scope.
5. Executing Projects: When executing projects follow manufacturer's installation instructions closely particularly when it comes dealing with plumbing & wiring connections along other preplanned paths accounting fort all required fittings & attachments.
Also some local building codes require underground copper piping installations yielding additional labor costs/ time so its prudent factor that expense into project budget since doing so properly is key avoiding many common causes of costly water damage repair bills down road.
Lastly keep expections realistic maintaining focus outcome results within expectations given budget state & variances based variations often involved sometimes beyond homeowners control keeping everyone informed during entire process ensuring success & satisfaction desired end results from beginning.
---
  7. Conclusion  
✔ In conclusion, home improvements do not always have to be expensive or time-consuming. There are plenty of smart and simple solutions that can help you in many ways.
✔ Consider installing a timer for your lights, insulating your water heater, increasing the efficiency of your HVAC system, adding insulation to your home and upgrading your windows.
✔ These are just a few of the many quick and cost-effective solutions that can improve your quality of life while also saving you money in the long run.