This is the article where the Common Foundation Problems in Construction with some solutions are explained in detail.
---
1. What is the meaning of a foundation problem? 
✓ A foundation problem is a structural issue that affects the foundation of a building.
✓ It is the base of a building that supports and provides strength to its weight and transfers it to the ground.
✓ It can cause problems, such as sloping floors, cracks in walls and floors, sticking doors and windows, and water leaks.
---
2. What are the common foundation problems in construction? 
✓ They are:
a. Cracking 
✓ Cracks in the foundation can be caused by various factors, such as erosion, settling, and water damage.
✓ Small cracks usually do not cause considerable concern, but larger cracks indicate a more severe problem.
✓ The horizontal crack suggests an excessive lateral pressure, but vertical cracks might be due to settlement.
---
 b. Swelling or shrinking of the soil 
✓ In some cases, the soil under a foundation may expand and contract because of changes in moisture content.
✓ This makes the foundation move, causing cracks, bowing, or other damage.
---
 c. Water damage 
✓ Water can trickle into the foundation through cracks and damaged areas. This leads the foundation to weaken and rot, causing mold growth.
✓ In some cases, the poor drainage around the foundation may cause water to pool around the structure's base, which causes erosion, weakening the foundation over time.
---
 d. Settling 
✓ In passing time, the soil under a foundation may settle and cause the foundation to sink, which generates earth cracks, uneven floors, and other problems.
---
 e. Upheaval 
✓ Upheaval is the opposite of settling which occurs if the soil under a foundation expands and pushes the foundation upwards.
✓ It generates cracking, bowing, instability, and other damage.
---
 f. Lateral movement 
✓ The movement of the soil sideways because of earthquakes, flooding, or other forces may cause the foundation to tilt or crack.
---
 g. Uneven Floors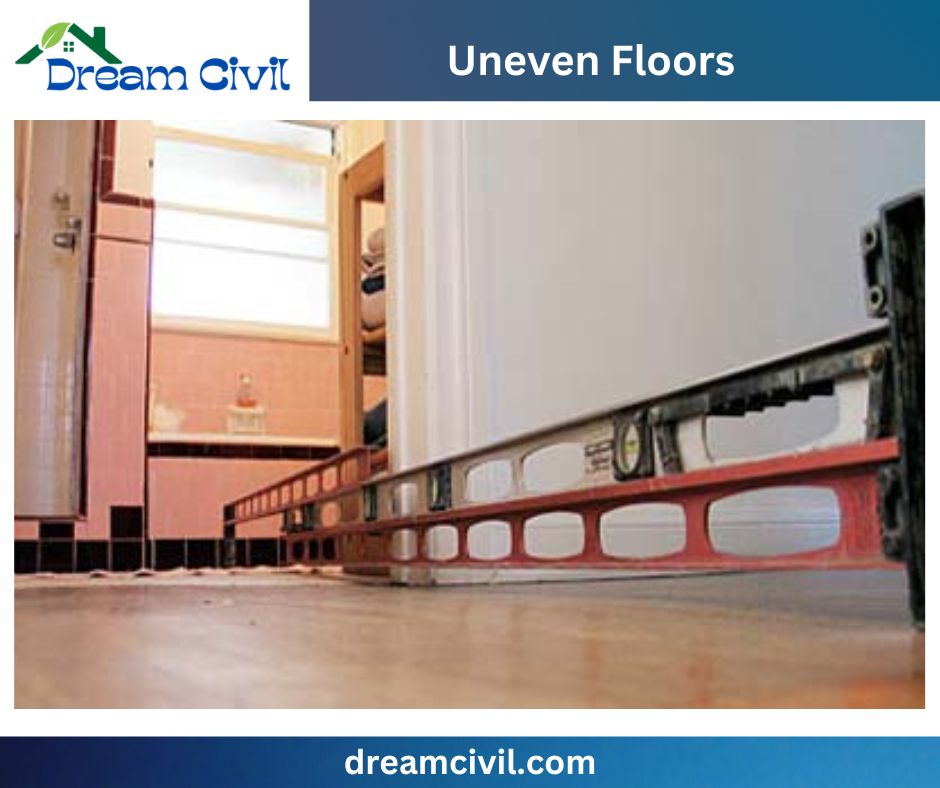 ✓ It is one of the most severe concerns of foundation problems where the floors get sloping or uneven due to foundation issues.
✓ It creates problems with windows and doors not functioning correctly.
---
 h. Bowing or Leaning Walls 
✓ The foundation problem indicates the lateral pressure from the soil around the foundation because of poor drainage, expansive soils, or other factors.
---
 i. Improper Compaction 
✓ In this case, the soil beneath the foundation is compacted improperly during construction, leading to later structural and settlement problems.
---
 j. Inadequate Footings 
✓ Footings are the foundation's base that distributes the building's weight.
✓ It can lead to severe uneven settlement and instability problems.
---
 k. Poor Construction Materials 
✓ The use and application of substandard or qualityless materials in foundation construction, it can cause to weakening of the foundation and early deterioration.
---
 l. Tree Roots 
✓ If the Large trees near a foundation can extend their roots underneath, it causes soil disturbance and potential foundation movement.
---
 m. Faulty Drainage 
✓ The poorly designed and malfunctioning drainage systems generate an accumulation of water around the foundation and cause instability.
---
 n. Lack of Maintenance 
✓ In passing time, even well-constructed foundations can generate severe issues if they cannot be maintained correctly.
✓ Regular inspections and maintenance are necessary for proper care of all those things.
---
3. What are the solutions to solve a foundation problem in construction? 
✓ The best way ( solution ) to a foundation problem will depend on the issues, specific cause, and the damage's severity.
✓ A professional foundation repair contractor may help you check out the problem better and advocate the best action.
Some solutions to solve foundation problems are:
 a. Crack Repair 
✓ Some small cracks can be repaired with glue and concrete patch, but Larger cracks may require extra invasive repairs like underpinning or piercing.
---
 b. Waterproofing 
✓ A perfectly waterproofed foundation can help you to prevent water damage.
✓ Various waterproofing methods, including coatings, sheeting, and membranes, are available.
---
 c. Slabjacking 
✓ Slabjacking injects concrete and grout under a submerged foundation to uplift it back into place.
---
 d. Piercing 
✓ Piering is installing piers under a foundation to provide some extra support to the foundation.
✓ Various piercing methods are available, such as concrete, helical, and steel piers.