In this article, we will discuss collapsible doors.
The door may be defined as a framework of wood, steel, aluminum, glass, or a combination of these materials secured in an opening left in a wall for the aim of giving access to the uses of the structures.
---
  1. Collapsible Doors  
The Collapsible Door is one that can be unlocked and locked by a small pull or push enclosing a channel-type arrangement. When the door size is enormous and accommodates it in limited space, a preferable door type is a collapsible one.
Collapsible doors are over benefit over two-leafed hinged shutters where the space given is big in size and the area given for door opening is not greater.
The essential structures of the door and method of construction, and the principles of working procedures are briefly explained below;
A collapsible Door is assembled of vertical bars of rolled steel channels, 16 to 20 mm broad, hooked together with the hollows of the channels on the innards; leaving a vertical void between the channels of 12 to 20mm.
As shown in the figure below, the roller is provided with both at their top as well as their bottom side so that shutter can be pulled or pushed sideways with a small force.
The vertical channel is placed at 10 to 20 cm center and is hooked to one another utilizing hoop iron cross pieces or flats 16mm to 20mm wider and 5mm thicker which allows the door to unlock or lock.
These collapsible doors are proposed for a maximum height of 3 meters, but there is no limitation in width. There can be single or double shutters. Usually, these doors are employed for extra safety. They are normally employed for front doors, bank locker rooms, and school & college access doors.
---
  2. Types Of Collapsible Door  
The Collapsible Door can be categorized as;
a. Doors fixed under the lintel
b. Doors fixed outside the opening
c. Doors fixed inside the opening
d. Doors fixed on adjustable top and bottom channels with swinging.
The collapsible door is categorized with respect to its fixation and place of fixation.
As assembled from mild steel is practically unbreakable without noise allows high-level security and also provides ventilation and vision throughout it. Even after the doors are folded or closed, communication is feasible.
It is a possible way of ensuring a point of entry. It is employed as the main door for the opening of the residential building, shops, go down, etc. It is likely the top-rated type of door for safety intention against thieves, vandals, and burglars.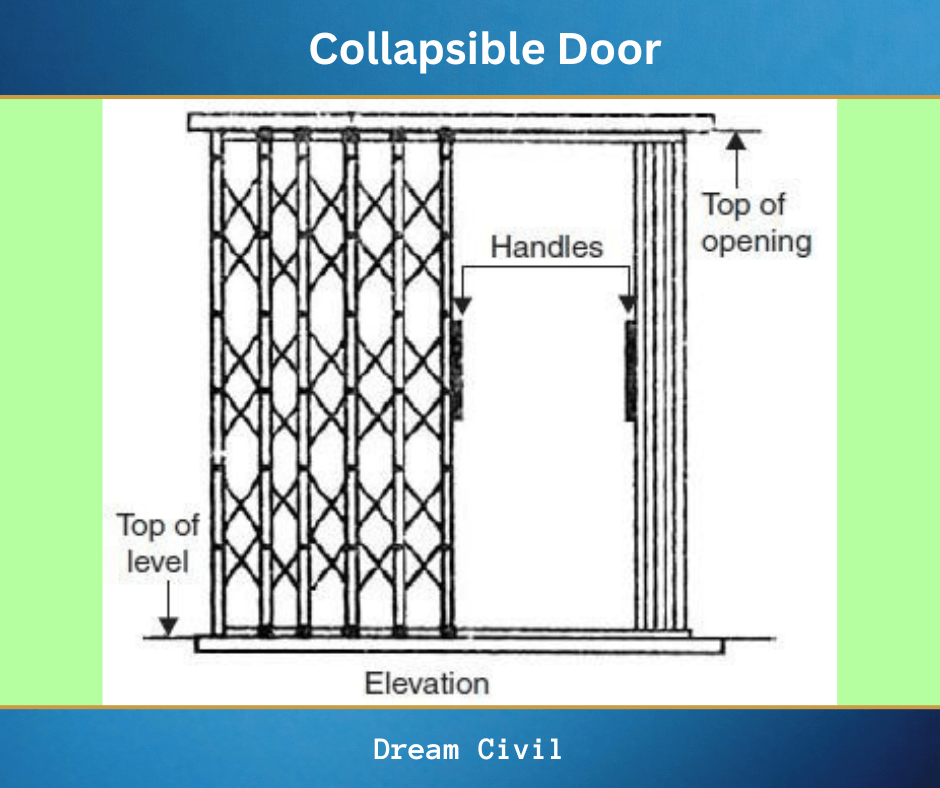 ---
  3. Advantages of Collapsible Door  
The advantages of Collapsible Doors are as follows:
a. They are comfortable to operate and authentic.
b. This door provides a wide opening.
c. It is comfortable to handle.
d. It is a positive visual obstruction to possible gatecrashers.
e. These doors are custom-made.
f. Only one side of the shutter can be employed for easy entrance without having to open the entire door.
g. It is cost-effective.
h. It can be unlocked as wished.
i. They are very light in weight as compared to different solid doors.
j. It can be managed smoothly as it can be used with a chain or lock.
k. This door provides more safety against burglars, vandals, and other intruders.
---
  4. Disadvantages of Collapsible Door  
The disadvantages of Collapsible Doors are as follows:
a. This door contains more dust in the guide channel and hence results in difficulty to use.
b. If this door cannot be used properly, the steel channels can get harmed, causing the door very hard to operate.
c. There is a guide channel on either side; therefore there are possibilities of getting stumbling on the floor.
d. It needs more additional lubrication. So it is not entirely maintenance-free.
e. It needs painting regularly as they get rusted if revealed to direct sunlight or rain.
f. It does not give privacy inside the room.
g. The collapsible door is not suited for air-conditioned halls.
h. These doors don't close automatically when not underuse.
---
Read Also: Crazing Concrete