Resilient flooring may bed defined as floors prepared of materials like PVC, rubber, linoleum, etc., and provides resilience and durability. Types of Resilient Flooring depend upon the materials used on it.
The resilient flooring system is denser and non-absorbent in nature. They assure a pliant surface which makes it comfortable to walk. This flooring also assures guarantee lesser maintenance. So, they are usually laid in offices, computer rooms, showrooms, etc.
---
  1. Types of Resilient Flooring  
There are various types of resilient flooring that can be used based on the need, material availability, and other aspects of the condition.
Some of the types of resilient flooring are as follows:
1. Vinyl Flooring
2. Linoleum flooring
3. Rubber flooring
4. Cork Flooring
a. PVC (Poly Vinyl Chloride)
The PVC is the major element material that will have an important role in the binder. It provides the benefit of delivering wearing resistance for the final flooring system.
This binder will include plasticizers as well as stabilizers. The flexibility of the floor is raised with the use of a plasticizer.
Because of this PVC flooring will become resilient in nature. The lasting of the color and the pigmentation resistance from the heat and light are maintained with the help of stabilizers.
It possesses more significant resistance to grease for kitchen usefulness even though it may not be wise to employ it for industrial kitchens. They may be provided as tiles too.
b. Linoleum Flooring
Linoleum includes oxidized or polymerized linseed oil and/or other best-for-drying oils with the required driers and additives.
Special grades are produced by altering the type of drying oils and resins.
c. Rubber Flooring
Rubber flooring is made of natural rubber with different filling compounds.
Because of the high cost of rubber, it is rather costly. They are made in sheets and also in tile form.
An even sub-floor is very essential for successful rubber flooring, and the laying of these resilient floors is technical work.
d. Cork Flooring
The cork oak trees that are cultivated in the Mediterranean regions deliver the cork material for the use of flooring. The outer layer of the cork oak trees is used for this work. After every nine years, the bark fails and it is brought from the tree.
The bark material is passed to granulation and packed with synthetic resins as binders. This is then known as baked. The piece of the cork is one of the essential criteria that evaluate the rate of cork flooring.
It relies on:
a. The size and quality of granules
b. The binder type and its quantity
c. The density of the mix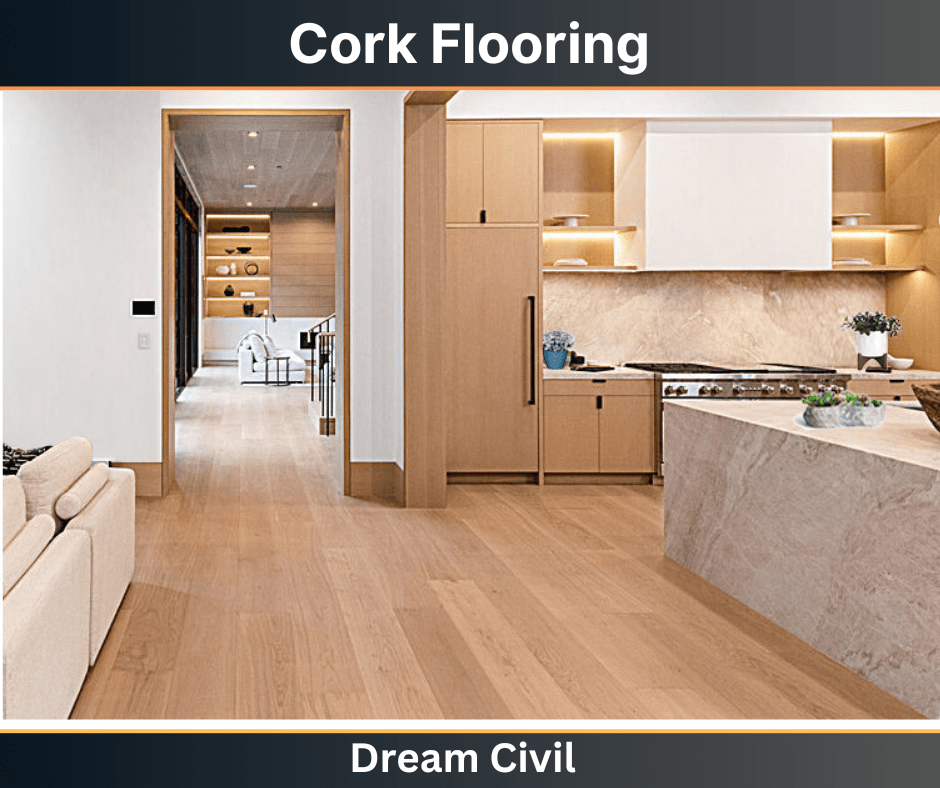 ---
  2. References  
1. Content Filter & Authenticity Checking Team, Dream Civil International
(Our team checks every content & detail to maintain quality.)
---
Read Also: Abrasives And Types of Abrasives
We are sorry that this post was not useful for you!
Let us improve this post!
Tell us how we can improve this post?