Steinway Tower is also named 111 West 57th Street. It is a supertall residential skyscraper in the Midtown Manhattan neighborhood of New York City.
  1. Steinway Tower  
| | |
| --- | --- |
| Name | Steinway Tower |
| Image | |
| Also Named As | (111 West 57th Street) |
| Contactor | Elicc Group |
| Designed by | SHoP Architects |
| Construction Started Date | July 8, 2015 (residential tower) June 1924 (Steinway Hall) |
| Construction Completion Date | 2022 |
| Height | 435 m |
| Floors | 84 |
| Cost | $2 billion |
| Renovated | 2019–2021 (Steinway Hall) |
| Owner | 111 West 57th Street Associates |
| Location | 1133 6th Ave, New York, NY 10036, United States |
| Floor Area | 572,348 sq ft |
| Architect | Warren and Wetmore |
| Architectural style | Beaux art |
Steinway Tower is constructed by JDS Development Group and Property Markets Group, it is located along Billionaires' Row on the north side of 57th Street near Sixth Avenue. The major part of the building is an 84-story, 1,428-foot (435-meter) tower planned by SHoP Architects and finished in 2021.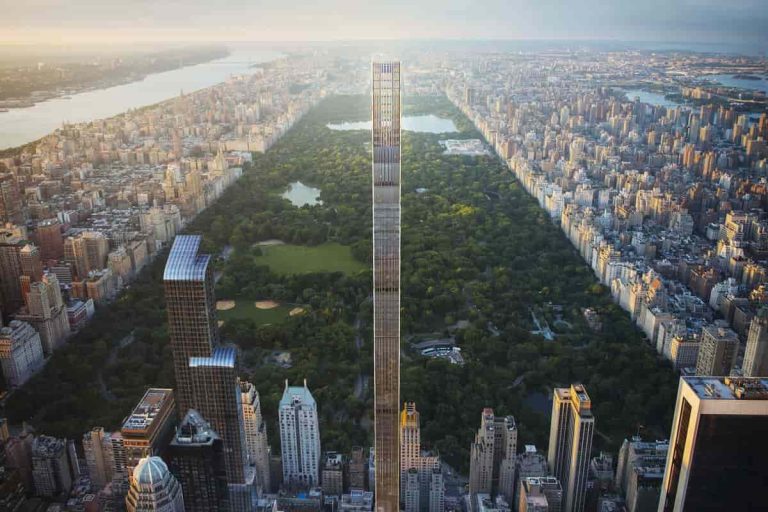 Protected at the base is the 16-story Steinway Building also called Steinway Hall, a former Steinway & Sons store planned by Warren and Wetmore and finished in 1925, which is named from the address 111 West 57th Street.
111 West 57th Street has 60 luxury condominiums of which 14 are in Steinway Hall and 46 in the tower. The residential tower contains a glass facade with piers prepared of terracotta; its pinnacle has setbacks on the southern side. The tower is one of the highest buildings in the United States, as well as the thinnest skyscraper in the world with a width-to-height ratio of about 1:24.
Steinway Hall, a New York City constructed landmark, contains a facade made mostly of brick, limestone, and terracotta. 111 West 57th Street has various resident amenities, housed majorly in the building's base, as well as a large rotunda within Steinway Hall that is also a planned city landmark.
The Steinway & Sons store at 111 West 57th Street was planned in 1916 but was not ready for 9 years because of lawsuits, and other reasons. Steinway Hall is used as a store, recital hall, and office building for nearly 9 decades, though it was abortive as a risky development.
The designs for a residential skyscraper on the field date to 2005, and JDS obtained the lots for the skyscraper between 2012 and 2013. In spite of the tower's size, it was technically built as an extra to Steinway Hall.
The construction of the tower started in 2014, and Steinway Hall was fixed as part of the residential project. The development of the tower faced a number of problems, and challenges such as financing difficulties, lawsuits, and conflicts over employment. The tower's concrete was topped out in April 2019, and work was finished in 2022.
We are sorry that this post was not useful for you!
Let us improve this post!
Tell us how we can improve this post?