Summary:
Granite tile flooring is the most popular choice indoors as well as outdoors owing to its various advantages. It also gives an aesthetic appeal along with being durable.
Granite Flooring is known for a few decades now and it is becoming increasingly popular nowadays. One of the reasons for its increasing popularity is that it offers wide design options at a reasonable rate.
So, if you are thinking of having your tiles replaced because either you are renovating your home or just want to have your tiles replaced, granite flooring may be the best choice for you.
Granite is one of the types of natural stone- it is an igneous rock that comes into existence after volcanic activity. It has a crystalline structure. The tiles are dense and possess strength too.
---
  A. Types of Granite Flooring  
The following are the most popular granite flooring types,
1. Kashmir White Granite
It is durable and has a glossy finish. The tiles containing a thickness of about 2-3 cm are considerably more durable.
These tiles are available in sizes:
60 cm * 30 cm
60 cm * 60 cm
24" * 24"
12" * 24"
The price of Kashmir white granite is Rs 125/Square Foot. 
2. Platinum White Granite
Platinum white granite tiles are available in bright colors. Also, they are cheap. If you are designing for a tight budget, then these tiles can serve you. Their durability is more. Also, you get chances for the finish- polished, flamed, or leather-finish.
These tiles are available in sizes:
60 cm * 30 cm
60 cm * 60 cm
24 cm * 24 cm
12 cm * 24 cm
The price of Platinum White Granite is Rs 75/Square Foot. 
3. Absolute Black Granite
Yes, absolute black granite tiles are also known and employed as flooring tiles. The countertops of absolute black granite are expensive but the tiles of this granite type are available in an inexpensive range.
The price of absolute black granite is Rs 185/Square Foot.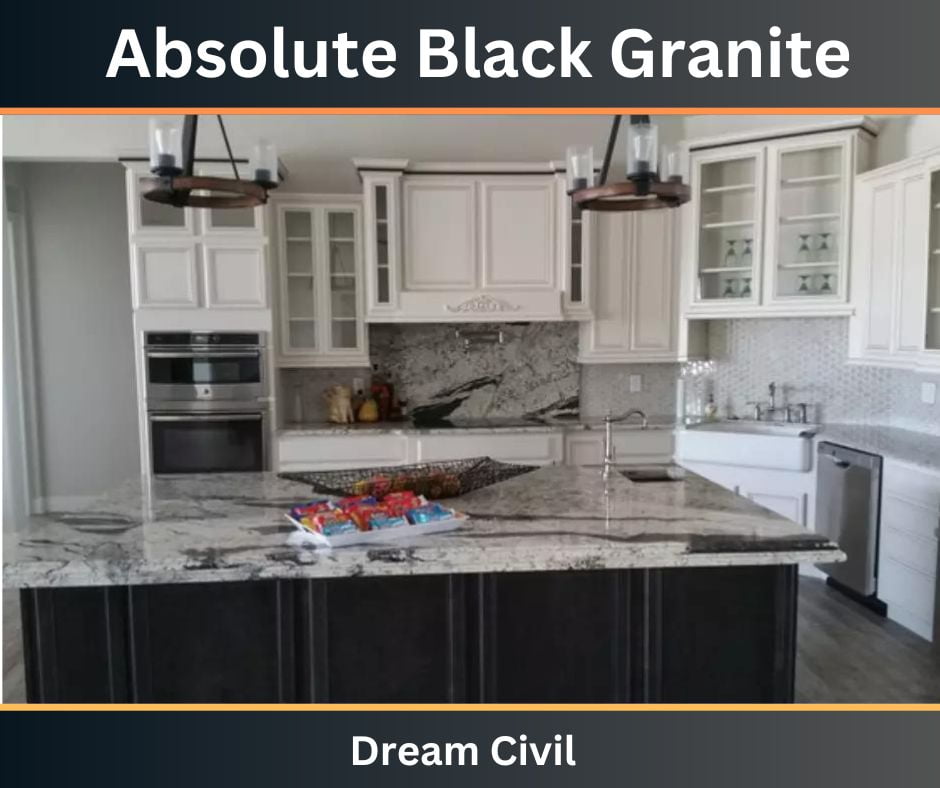 4. Black Galaxy Granite
It is also a matching option to absolute black and is now employed for flooring as well along with countertops. These tiles are sorted out without a line.
The price of black galaxy granite is Rs 160/Square Foot. 
5. Crystal Yellow Granite
Crystal yellow granite is available in a bright color. it is particularly appropriate as an indoor flooring choice. It has evenly dispersed crystals and is one of the most uniform tiles. It is open in a thickness of 1.8 cm or 2 cm. It can be employed for outdoor use too.
The price of crystal yellow granite is Rs 160/Square Foot. 
6. Tan Brown Granite
Tan brown granite is another dark color choice that can be used for flooring.
These tiles also arrive in a wide range of finishes like flamed, polished, and leather finishing.
The price of tan brown granite is Rs 70/Square Foot. 
7. Rosy Pink Granite
These pink granite tiles are one of the cheapest granite tiles.
It is also called zero-maintenance granite because of its high durability.
It does not even need sealing, thus saving the cost of sealant. However, it is glossed heavily.
The price of rosy pink granite is Rs 52/Square foot. 
8. Steel Grey Granite
These granite tiles resemble silver pearls in the ocean and are one of the most common types of granite tiles employed.
Above the given choices, there are other types of granite tiles too like vision white granite and so on that are commonly employed.
The price of steel grey granite is Rs 165/square foot. 
---
  B. Advantages of Granite Flooring  
The advantages of Granite Flooring are as follows:
a. Durability
b. Variety Shades
c. Easy Maintenance
d. Resistant to stain, Heat & Scratches
---
  C. Disadvantages of Granite Flooring  
The disadvantages of granite flooring are as follows:
a. Heavy in weight.
b. Difficult Installation
c. Time-Consuming Maintenance
---
  D. Prices of Granite Flooring  
The average price of granite flooring is Rs. 195.0 / sq. ft.
---
  E. References  
1. Content Filter & Authenticity Checking Team, Dream Civil International
(Our team checks every content & detail to maintain quality.)
---
Read Also: Pony Walls