An excavator is a heavy-duty machine that consists of a boom, dipper, bucket, and cab on rotating platforms known as a house. It can be used in plain as well as hilly areas.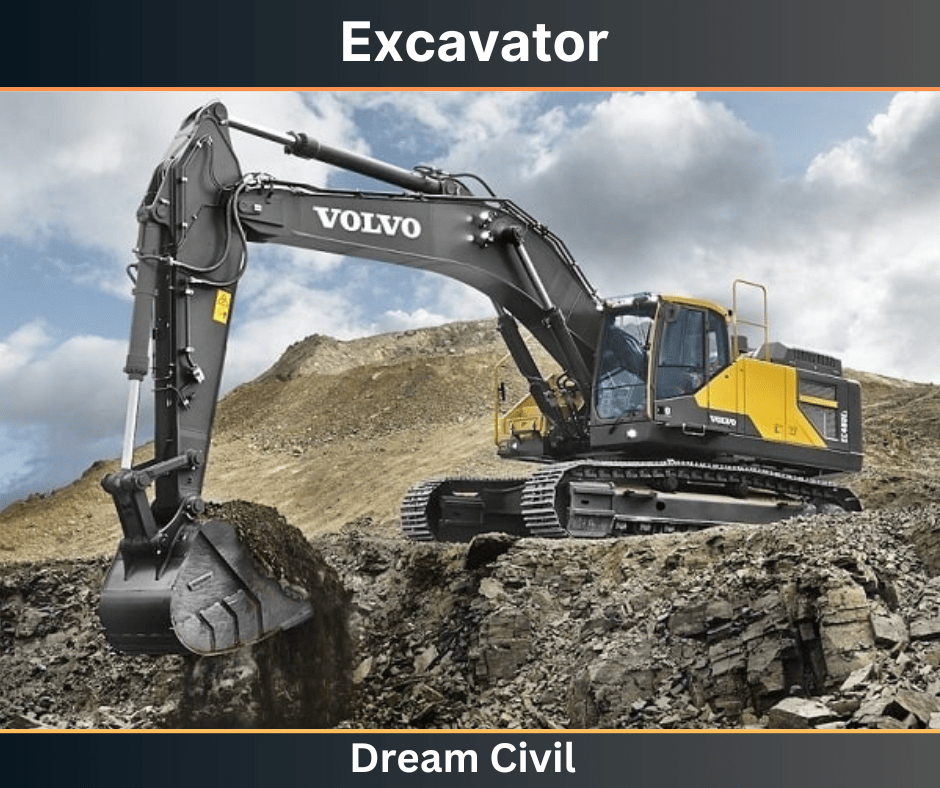 Mostly, excavators are used for excavating the soil, digging holes, materials handling, demolishing small structures, etc. It can also be used for loading materials in trucks, tractors, etc.
The average weight of an excavator is 30,783 kg or(67,865 pounds) which is 23 times the weight of a normal car.
They are also known as diggers, JCBs, etc.
---
  1. Uses of Excavator  
The uses of excavators are;
i. Mining
ii. Road construction
iii. Building construction
iv. Demolition
v. River dredging
vi. Forest mulching
vii. Materials handeling
viii. Driving piles, drilling shafts, etc
---
  2. Functional Parts of the Excavator  
The main functional parts of the excavator are;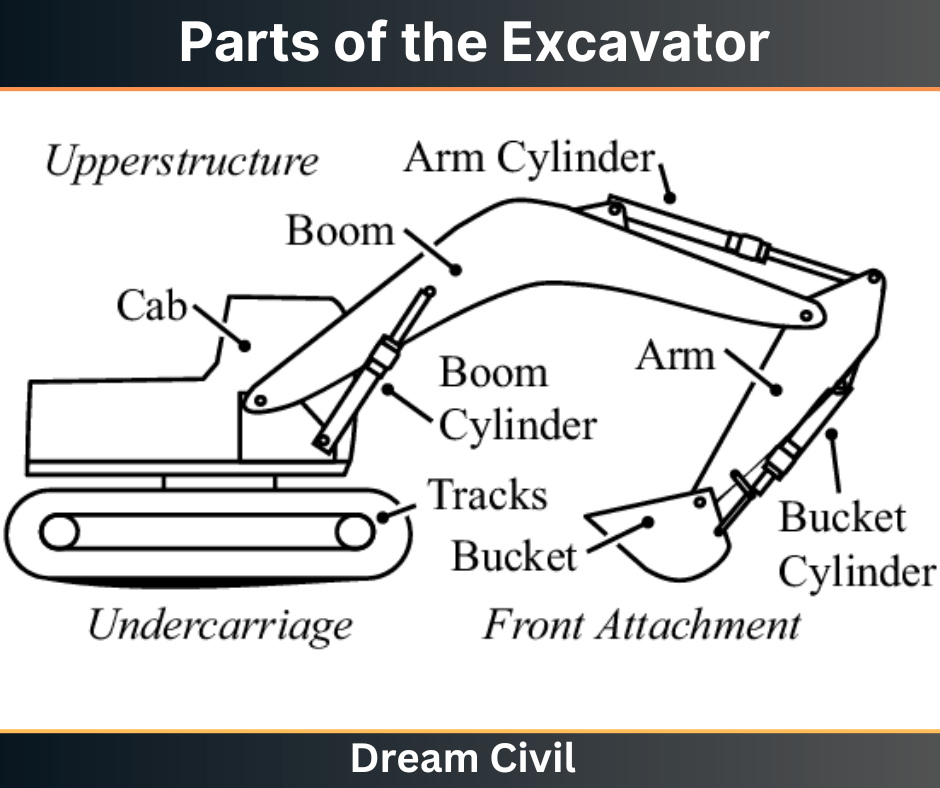 a. Boom
b. Arm Cylinder
c. Bottom Roller
d. Bucket
e. Bucket Cylinder
f. Cab, ROPS
g. Car Body
h. Dipper, Arm, Stick, Crowd Cylinder
i. Track Pad, Grouser Pad
j. Final Drive, Reduction Assembly
k. H-Link
l. Main Control Valve
m. Counterweight
---
  3. Types of Excavator  
Different types of excavators are listed below:
a. Crawler Excavators  
The crawler excavator is also known as the "standard excavator" that is capable to rotate 360 degrees for easy digging, moving, and dumping materials.
They have a boom, and bucket attached to the front of the machine. They use hydraulic power. They are slower than wheeled excavators.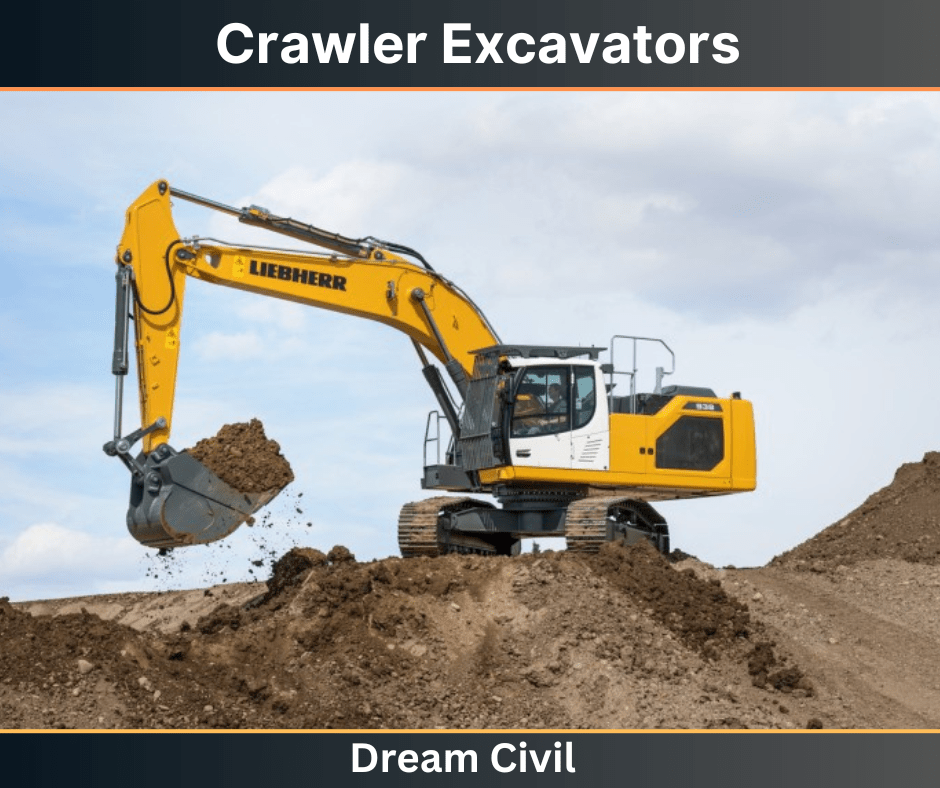 They run in the same way as tanks (i.e., 2 parallel rotating tracks).
They are useful in mining, trench digging, landscaping, forestry, etc. They are good in steep, rough, or hilly landscapes.
Uses: They are used for preparing road alignments, mining, trench digging, landscaping, etc.
Pros: Suitable to use in plain as well as hilly areas.
Cons: Slower than other wheeled excavators.
b. Wheeled Excavator
Wheeled excavators are similar to crawler excavators but the only difference is that they are installed with wheels (tires) instead of tracks.
They can rotate in 200 degrees.
They save time and hauling costs because they provide great maneuverability and speed as compared to crawler excavators.
Uses: Demolition work, digging, materials handling, etc.
Pros:  Faster than crawler excavator, saves time and hauling cost.
Cons: Not suitable to use in muddy and hilly areas.
c. Suction Excavator
A suction excavator is also known as a vacuum excavator.
They loosen and remove soil precisely.
The onboard air fans generate the suction power to draw up the material through the intake nozzle depositing to the container at a speed of 200 miles per hour.
They are suitable when the area requires precise and careful excavating.
They are not applicable for large-scale works because the intake nozzle ( suction pipe ) is 1 foot ( 30 centimeters ) or less in diameter.
They are only suitable to excavate areas with loose soil surfaces.
Uses: Remove materials from the hole on land, heavy debris on land,  etc.
Pros: Suitable when the area requires precise and careful excavating.
Cons: Not suitable for large-scale works.
d. Long Reach Excavator
Long-reach excavators are similar to crawler excavators but are featured with longer extendable boom and arms.
The length of the arm ranges from 40 – 100 feet.
They can excavate in risky areas being in safe places and hard-to-reach areas.
Uses: Digging deep holes or trenches
Pros: Suitable for demolition works that require precision and are useful in hard-to-reach areas.
e. Hydraulic Shovel
Hydraulic shovel excavators are also known as power shovels and are regarded as the most powerful type of excavator.
They are equipped with a powerful engine and a large bucket.
.
Mainly useful for large-scale works.
Uses: Hauling rocks, soil, other heavy materials, and heavy digging projects.
Pros: Highly Powerful than other excavators.
f. Dragline Excavator
Dragline excavators are larger excavator that uses a hoist rope system and dragline to raise & lower the bucket.
Uses: Canal dredging, strip mining, deep pile driving, underwater operations, etc
g. Backhoe Excavator
Backhoe excavators are the one that has an excavator boom on the backside of the machine and the front part of the machine is installed with a large bucket or blade used for leveling, moving soils, and other materials.
They can rotate in 200 degrees.
Uses: Landscaping, small demolitions, breaking asphalt, loading materials, etc.
Pros: Can perform multiple tasks.
h. Skid Steers
Skid steers are smaller in size making them suitable to work in narrow areas and limited workspace.
The bucket and boom face away from the driver.
 Uses: Clearing sites, removing debris, and pool cleaning.
i. Truck-Mounted Excavator
Truck-mounted excavators are the ones that are mounted on truck chassis and they can run at higher speeds on roads.
Cons: Require large space and firm ground to function properly.
j. Self-Propelled Excavator  
Self-propelled excavators are provided with rubble tires and small boom & buckets that have a speed of 10-30 km per hour.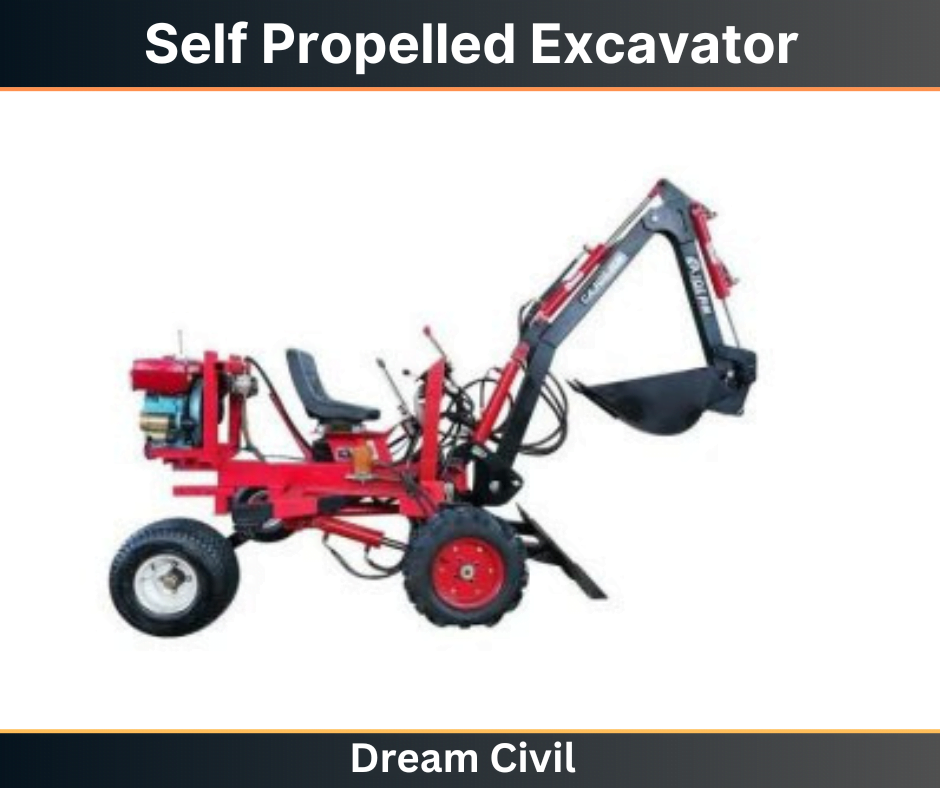 They are provided with an engine and a cab.
Uses: Usually used for lifting small objects and excavating very small areas ( like excavating small pits to plant trees ).
k. Excavator Mounted on a Barge/Rail  
The type of excavators that are used in railway lines or water and are mounted on a barge.
l. Clamshell  
The type of excavators that have both the properties of cranes and a dragline is called clamshell excavators.
They have a bucket of a shape similar to clam fish and have two shells hinged together.
Uses: Carry/Handle loose and medium-hard materials.
Cons: Slow and less efficient.
m. Bucket-Wheel Excavator  
(Note: The world's largest and heaviest land vehicle is a Bucket-Wheel excavator named Bagger 293.)
They are used for large-scale operations.
They are installed with a digging wheel with buckets mounted on the boom that is adjusted vertically.
Uses: Mining work, material handling, heap leaching, etc.
Pros: Useful for large-scale work
Cons: Most of their work are replaced by hydraulic excavators.
n. Dredger  
Dredger excavators are the type of excavators that are suitable when the work is to be carried out in lakes, rivers, and seas.
The types of dredgers are:
i. Dipper excavator
ii. Ladder excavator
iii. Suction excavator
---
  4. References  
1. Content Filter & Authenticity Checking Team, Dream Civil International
(Our team checks every content & detail to maintain quality.)
---
Read Also: 27 Bathroom Accessories with Images
We are sorry that this post was not useful for you!
Let us improve this post!
Tell us how we can improve this post?