In this article, we will discuss desert landscaping ideas.
It is very challenging to make attractive landscaping in a desert area, so overcome this problem. Here are ideas that can help you to make your garden attractive.
---
  1. Desert Landscaping Ideas  
1. Drought tolerant plants
Few prickly landscaping can take more time but the result is worth a shot. You should begin with short cacti and succulents and try them through the years for the ultimate dessert management or you can just add bigger ones.
2. Xeriscape
The way of landscaping with pebbles and stones as its base components. Managing pebbles and stones as a decoration or patterning them in clusters in the backyard provides the classic Midwestern slash Mexican theme. Other than that, a broad, open gap is always the best idea for summer relaxation in the backyard. Keep it with pots and succulents.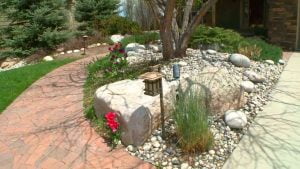 3. Waterscape
This idea will require infusing water features in the desert landscapes. Keeping the waterscape that the desert is difficult to see is not only refreshing but also convincing to watch and just be near to it, in a desert setting.
4. Reflective lighting
Backyards are prepared for the purposes of get-togethers in the afternoon and morning sunbathing. With reflective lighting looming over you and some water features that will neutralize the temperature, you will get the best of both worlds like these designs from Decoist.
5. Grass scape
Backyards having green grass is beneficial for the eye as well as provides an attractive vie to watch again and again.
6. Large Desert Beds
Keeping a large desert bed will increase the aesthetic beauty and provide a platform to relax and enjoy.
---
  2. Some Designs of Desert Landscaping  
1
2
3
4
5
6
7