This article will give you ideal information about the Biggest Civil Engineering Projects of All Time that is popular today.
---
✓ The Great Wall of China
---
 2. What is a major civil engineering project? 
✓ Highways or bridges
---
 3. Who is the first civil engineer in the world? 
✓ John Smeaton
---
 4. What are the biggest civil engineering projects of all time? 
✓ Several monumental civil engineering projects have sculpted the modern and advanced world with complexity, scale, and impact. Here are some of the most significant and iconic civil engineering projects of all time:
 17. Itaipu Dam 
| | | |
| --- | --- | --- |
| S.N. | Title | Information |
| 1. | Location | ✓ on the Paraná River between the natural border of Brazil and Paraguay |
| 2. | Purpose | ✓ Electricity production |
| 3. | Capacity | ✓ 20 generating units with 14,000 megawatts (M.W.) |
| 4. | Construction started | ✓ 1970s |
| 5. | Construction completed | ✓ 1980s |
| 6. | Materials | ✓ Concrete |
| 7. | Height | ✓ 196 m |
| 8. | Area | ✓ 1,350 km² |
| 9. | Construction cost | ✓ US$19.6 billion (equivalent to $55.2 billion today) |
---
 16. Grand Ethiopian Renaissance Dam 
| | | |
| --- | --- | --- |
| S.N. | Title | Information |
| 1. | Location | ✓ Guba, Benishangul-Gumuz Region |
| 2. | Purpose | ✓ Electricity generation |
| 3. | Capacity | ✓ 6,450 megawatts (M.W.) |
| 4. | Construction began | ✓ April 2, 2011 |
| 5. | Country | ✓ Ethiopia |
| 6. | Opened | ✓ July 21, 2020 |
| 7. | Status | ✓ Under construction |
| 8. | Materials | ✓ Concrete |
| 9. | Construction cost | ✓ US$5 billion |
---
 15. Akashi-Kaikyo Bridge 
| | | |
| --- | --- | --- |
| S.N. | Title | Information |
| 1. | Location | ✓ Awaji Island, Kobe, Awaji |
| 2. | Total length | ✓ 3,911 m |
| 3. | Opened | ✓ April 5, 1998 |
| 4. | Bridge type | ✓ Suspension bridge |
| 5. | Construction started | ✓ May 1988 |
| 6. | Architect | ✓ Satoshi Kashima |
| 7. | Architecture firm | ✓ Honshu Shikoku Bridge Authority |
| 8. | Purpose | ✓ To facilitate efficient transportation |
| 9. | Design | ✓ Wind-Resistant |
---
 14. Bailong Elevator 
| | | |
| --- | --- | --- |
| S.N. | Title | Information |
| 1. | Address | ✓ Wulingyuan District, Zhangjiajie, China, 427401 |
| 2. | Opened | ✓ April 2002 |
| 3. | Purpose | ✓ To ensure visitors can quickly and conveniently reach the top of a sandstone quartz pillar. |
| 4. | Height | ✓ approximately 326 meters (1,070 feet) |
| 5. | Capacity | ✓ Carrying capacity of around 50 passengers at a time |
| 6. | Construction began | ✓ 1999 |
| 7. | Construction completed  | ✓ 2002 |
---
 13. Severn Tunnel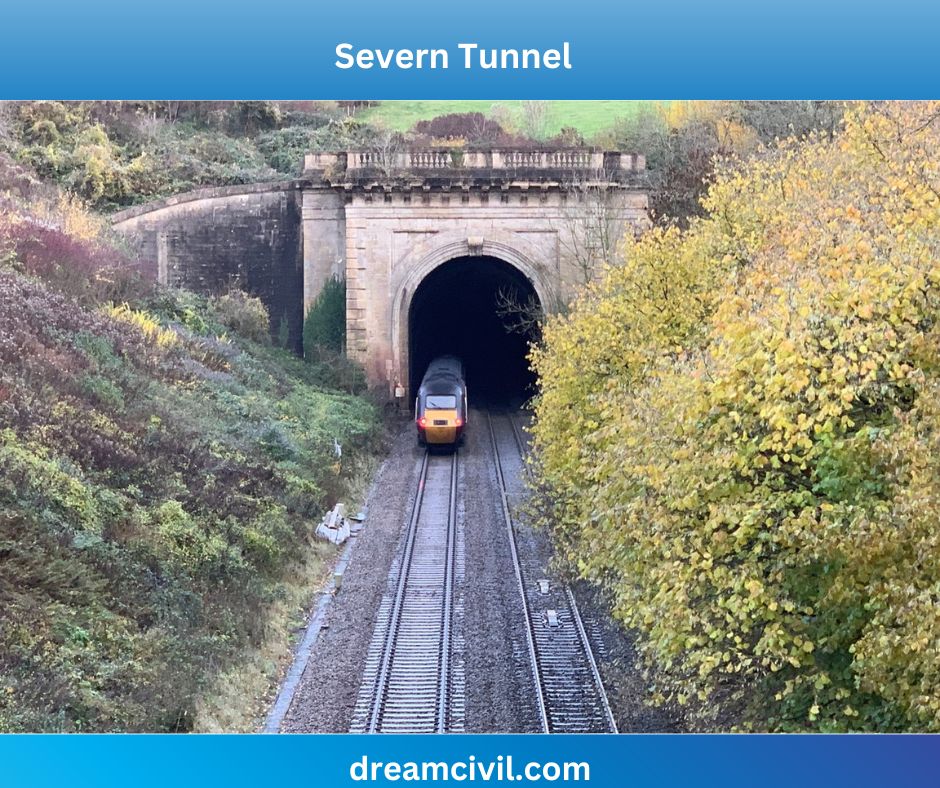 | | | |
| --- | --- | --- |
| S.N. | Title | Information |
| 1. | Construction started | ✓ 1872 |
| 2. | Construction Opened | ✓ 1886 |
| 3. | Design | ✓ Twin-Bore |
| 4. | Contractor | ✓ Thomas A. Walker |
| 5. | Length | ✓ 7,008 m (4.355 mi) |
| 6. | Engineer | ✓ John Hawkshaw |
| 7. | Location | ✓ River Severn |
| 8. | Traffic | ✓ Railway |
| 9. | Purpose | ✓ To provide a direct rail route between South West England and South Wales |
---
 12. Karnaphuli Tunnel 
| | | |
| --- | --- | --- |
| S.N. | Title | Information |
| 1. | Address | ✓ Airport Road, Chattogram, Bangladesh |
| 2. | Length | ✓ 3.32 kilometres (2.06 mi) |
| 3. | Status | ✓ Completed |
| 4. | Owner | ✓ Government of Bangladesh |
| 5. | Purpose | ✓ To improve transportation |
| 6. | Tunnel | ✓ An underwater road tunnel |
| 7. | Traffic | ✓ All types of vehicles (Except motorcycles) |
---
 11. Jiaozhou  Bay Bridge 
| | | |
| --- | --- | --- |
| S.N. | Title | Information |
| 1. | Address | ✓ 58Q2+P89, Aodong Rd, Chengyang District, Qingdao, Shandong, China, 266114 |
| 2. | Location | ✓ Qingdao, Licang District |
| 3. | Construction started | ✓ 2007 |
| 4. | Total length | ✓ 41,580 m |
| 5. | Bridge type | ✓ Suspension bridge, Cable-stayed bridge, Pile bridge, Self-anchored suspension bridge |
| 6. | Material | ✓ Prestressed concrete |
| 7. | Opened | ✓ June 30, 2011 |
| 8. | Longest span | ✓ 260 m |
| 9. | Purpose | ✓ To provide an efficient and direct transportation link between Huangdao and Qingdao |
---
 10. Aqueduct of Segovia 
| | | |
| --- | --- | --- |
| S.N. | Title | Information |
| 1. | Address | ✓ Pl. Azoguejo, 1, 40001 Segovia, Spain |
| 2. | Location | ✓ Segovia |
| 3. | Total length | ✓ 794 m |
| 4. | Height | ✓ 28 m |
| 5. | Material | ✓ Granite |
| 6. | Width | ✓ 5.1 m |
| 7. | Purpose | ✓ To transport water from the nearby mountains to the city of Segovia |
---
 9. Great Pyramid of Giza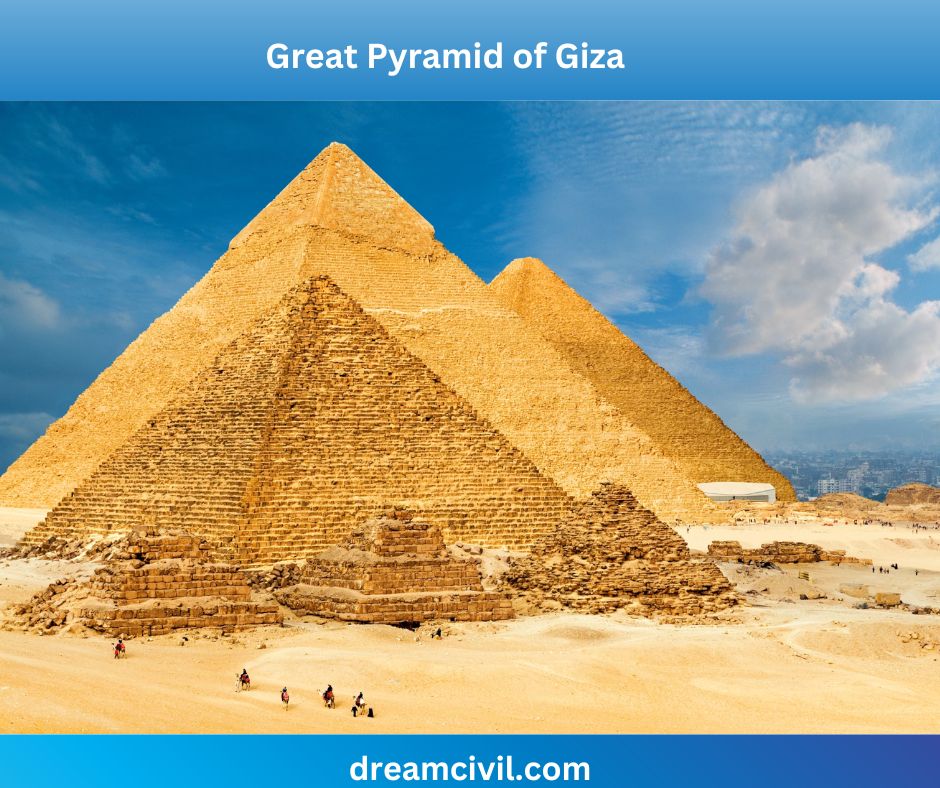 S.N.
Title
Information
1.
Architect
✓ Hemiunu (presumed)
2.
Constructed
✓ 2570 BC (Old Kingdom)
3.
Type
✓ True pyramid
4.
Material
✓ Limestone, mortar, granite
5.
Height
✓ Original: 146.6 m (481 ft) or 280 cubits
✓ Current: 138.5 m (454 ft)
6.
Purpose
✓ To serve as a monumental tomb for Pharaoh Khufu
---
 8. Brooklyn Bridge 
| | | |
| --- | --- | --- |
| S.N. | Title | Information |
| 1. | Address | ✓ New York, NY 10038, United States |
| 2. | Total length | ✓ 1,834 m |
| 3. | Construction started | ✓ 1869 |
| 4. | Location | ✓ New York, Brooklyn, Manhattan |
| 5. | Longest span | ✓ 486 m |
| 6. | Opened | ✓ May 24, 1883 |
| 7. | Bridge type | ✓ A suspension bridge, a Cable-stayed bridge |
| 8. | Architect | ✓ John A. Roebling |
---
 7. Burj Khalifa 
| | | |
| --- | --- | --- |
| S.N. | Title | Information |
| 1. | Located | ✓ Burj Khalifa Park by Emaar |
| 2. | Address | ✓ Sheikh Mohammed bin Rashid Blvd – Downtown Dubai – Dubai – United Arab Emirates |
| 3. | Departments | ✓ Burj Khalifa Pool Annex |
| 4. | Height | ✓ 828 m, 830 m to tip CTBUH |
| 5. | Floors | ✓ 163 |
| 6. | Owner | ✓ Emaar Properties |
| 7. | Construction started | ✓ January 6, 2004 |
| 8. | Architects | ✓ Adrian Smith, George J. Efstathiou, Marshall Strabala |
| 9. | Opened | ✓ January 4, 2010 |
| 10. | Contractors | ✓ Samsung C&T Corporation, Laing O'Rourke |
---
 6. Three Gorges Dam 
| | | |
| --- | --- | --- |
| S.N. | Title | Information |
| 1. | Address | ✓ China, Hubei, Yichang |
| 2. | Opened | ✓ 2003 |
| 3. | Height | ✓ 181 m |
| 4. | Purpose | ✓ Hydropower, Flood control, Tourism |
| 5. | Construction cost | ✓ ¥203 billion (US$31.765 billion) |
| 6. | Province | ✓ Hubei |
| 7. | Surface area | ✓ 1,084 km2 (419 sq mi) |
| 8. | Owners | ✓ China Three Gorges Corporation, China Yangtze Power |
---
 5. Golden Gate Bridge 
| | | |
| --- | --- | --- |
| S.N. | Title | Information |
| 1. | Address | ✓ Golden Gate Bridge, San Francisco, CA, United States |
| 2. | Location | ✓ San Francisco, Marin County |
| 3. | Total length | ✓ 2,737 m |
| 4. | Construction started | ✓ January 5, 1933 |
| 5. | Opened | ✓ May 27, 1937 |
| 6. | Longest span | ✓ 1,280 m |
| 7. | Elevation | ✓ 67 m |
| 8. | Height | ✓ 227 m |
---
 4. Great Wall of China 
| | | |
| --- | --- | --- |
| S.N. | Title | Information |
| 1. | Address | ✓ Huairou District, China, 101406 |
| 2. | Length | ✓ 21,196 km |
| 3. | Opened | ✓ 220 BC |
| 4. | Size | ✓ 21,196.18 km (13,170.70 mi) |
| 5. | Diameter | ✓ 21,196 km |
| 6. | UNESCO Site Id | ✓ 438 |
| 7. | Purpose | ✓ To serve as a defense against incursions |
---
 3. Hoover Dam 
| | | |
| --- | --- | --- |
| S.N. | Title | Information |
| 1. | Address | ✓ Nevada 89005, United States |
| 2. | Construction started | ✓ April 20, 1931 |
| 3. | Opened | ✓ March 1, 1936 |
| 4. | Height | ✓ 221 m |
| 5. | Architects | ✓ Henry J. Kaiser, Gordon Kaufmann |
| 6. | Purpose | ✓ Power, flood control, water storage, regulation, recreation |
| 7. | Length | ✓ 379 meters |
---
 2. Panama Canal 
| | | |
| --- | --- | --- |
| S.N. | Title | Information |
| 1. | Country | ✓ Panama |
| 2. | Construction started | ✓ May 4, 1904 |
| 3. | Length | ✓ 82 km (51 miles) |
| 4. | Bridges | ✓ Puente Centenario |
| 5. | Owners | ✓ Isthmian Canal Commission, Government of Panamá |
| 6. | Maximum boat length | ✓ 366 m (1,200 ft 9 in) |
---
 1. Channel Tunnel 
| | | |
| --- | --- | --- |
| S.N. | Title | Information |
| 1. | Address | ✓ Kent, England |
| 2. | Construction started | ✓ 1988 |
| 3. | Opened | ✓ May 6, 1994 |
| 4. | Length | ✓ 50 km |
| 5. | Diameter | ✓ 50 km |
| 6. | Owner | ✓ Get link |
| 7. | Width | ✓ 45 m |