Aquacrete may be defined as a decorative cement coating that gives an aesthetically good appearance to a concrete surface. It is prepared from cement, quartz, and color.
It can be utilized to coat swimming pools, bodies of water, basins, fountains, etc. The thickness of aquacrete lining varies from 2 to 3 mm. It can be combined with micro concrete and micro cement to prepare a continuous surface and keep new and existing swimming pools for short maintenance and renovation.
  1. Aquacrete  
It is a cement-quartz-based lining prepared majorly for coating concrete and tile surfaces in touch with water like swimming pools, fountains, and basins. The material can withstand chemical attacks of aggressive materials such as chloride.
| | |
| --- | --- |
| Packaging Size | 20 ltr , 5ltr & 1ltr |
| Coverage | 1.3 sqm per 25 kg pack at 10 mm thickness |
| Type | Acrylic resin base |
| Color | White Crystal |
| Material | Liquid |
| Category | Cementitious Waterproofing |
  2. Uses of Aquacrete  
It can be majorly utilized on many surfaces for the renovation process. Some uses of aquacrete are as follows:
1. It can be used to renovate and maintain existing cement surfaces and tiles.
2. It can be utilized to coat swimming pools, basins, and fountains that have fresh water in them.
3. It can be utilized in the public and private sectors.
4. It can adhere to attach foundations.
  3. Prices  
The price of Aquacrete is listed below:
| | |
| --- | --- |
| 1 Gallon | $ 167.46 USD |
| 2 Gallon | $ 307.90 USD |
| 4 Gallon | $ 564.05 USD |
| 5 Gallon | $ 644.45 USD |
  4. Aquacrete-Micro-Con  
Aquacrete Micro-Con is Supplied as a set to use dry powder that needs only the clean water on it at the site to prepare a free-flowing non shrink repair micro concrete. This is a cementitious material, with additives that give controlled expansion features in the plastic state while minimizing water demand.
  5. Procedure 
The procedure for applying the aquacrete is as follows:
a. Rubb the surface and separate loose concrete, any dust, oil, paint grease, etc.,
b. Keep open fully any corroded steel in the repair part and separate all scale and corrosion deposits. Shot blasting is mostly suggested.
c. Provide Epoxy Zinc Primer over the cleaned re-bars and permit to dry before ongoing to Saturate. The substrate with water to prevent absorption of water from the mixed material of Aquacrete Micro-Con.
e.  The substrate should be primed by applying one coat of AQUAPOXY-EBA
f. Aquacrete Micro-Con added with water (3.75 to 4 liters per 25 kg bag) till a homogeneous mix is prepared, at 30 ºC.
g.  Mixing should be done thoroughly with a forced action mixer of adequate capacity, at least for 5 minutes
h. Pour or pump the mixed Aquacrete micro-con into a watertight shuttering in the repaired area, when primer becomes tacky.
i. Cure the repaired surface for a minimum of 7 days.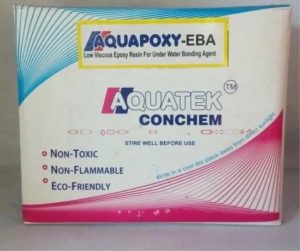 6. Technical Information  
Compressive strength
100 kg/cm at 1 day
300 kg/cm at 3 days
400 kg/cm at 7 days
500 kg/cm at 28 days
5 kg/sq cm at 28 days
Flexural strength
% water absorption after 24 hrs
0.45
Chloride content
Nil
Depth of carbonation, mm
(Accelerated carbonation test)
Coefficient of thermal expansion
Nil
Yield
11 x 10 per C
Coverage
13.5 ltrs
1.3 sqm per 25 kg pack at 10 mm thickness
  7. Advantages of Aquacrete  
The advantages of aquacrete are as follows: 
a. Useful to renovate and maintain swimming pools fastly.
b. Withstand chemical attacks like chloride.
c. It gives a continuous lining without a requirement for gaskets.
d. Good and best for new and existing surfaces.
e. Do not require repainting.
f. It is best to coat existing linings.
g. It can take polishes to renew its surface.
h. Best for the lining of any shape.
i. Aquacrete lining can be cleaned effortlessly.
j. It gives a variety of colors.
We are sorry that this post was not useful for you!
Let us improve this post!
Tell us how we can improve this post?