This article provides a brief overview of Smart Home Design for the Elderly. One way to prevent falls and accidents among seniors is to make home modifications.
✓ This could include installing grab bars in the bathroom, adding stair railings, and widening doorways.
✓ In addition to reducing the risk of injuries, these changes can also improve seniors' mobility and make it easier for them to move around their homes.
---
 1. What is a smart home for older adults? 
✓ The network of devices within a smart home is designed to connect seamlessly with a remote center, such as a phone or tablet.
✓ This setup allows for the gathering and analysis of the physical and medical data of the senior with absolute precision and accuracy.
✓ Seniors can enjoy added independence through remote access to various home systems, including the thermostat, television, lighting, and security systems.
✓ Smart homes provide a safe environment for elderly individuals, including those with cognitive impairment, to remain at home for an extended period.
✓ Studies have demonstrated that elderly individuals prefer aging in place rather than transitioning to assisted living communities.
✓ Smart homes allow for effortless control over energy consumption and the automation of many routine tasks, such as regulating temperature, managing lighting, controlling window treatments, and optimizing irrigation based on weather patterns.
---
 2. What are the benefits of a smart home? 
✓ Integrating artificial intelligence in our homes can significantly improve our daily lives. By preventing accidents caused by human error, we can ensure the safety of our homes. Furthermore, it can lead to significant cost savings and provide us with comfort and security.
---
 3. How can architecture help older people? 
✓ According to Álvarez, elderly individuals face challenges not only with mobility but also with their senses. Architecture can assist them by incorporating color, lighting, and texture to encourage greater independence.
---
 4. What features make a smart home? 
✓ The range of smart home solutions is unparalleled. From installing intelligent lighting systems to controlling your entertainment with AI, it offers everything you need to make your home truly automated.
✓ Smart home appliances and utilities are designed to make your life easier, while our security systems provide your home peace of mind and protection.
---
 5. Why do older adults need Smart Home Design? 
✓ Numerous studies have unequivocally shown that innovative home services are exceedingly beneficial for the overall well-being of older people.
✓ These benefits range from heightened independence and better healthcare to increased social interaction, enhanced safety, lower expenses, and superior decision-making capabilities.
---
 6. What are the ideas of Smart Home Design for the Elderly? 
They are:
 1. Remote Access 
✓ A network of interconnected devices forms the backbone of a smart home, all of which are linked to a remote center, such as a phone or tablet.
✓ This setup enables the seamless collection and processing of physical and medical data of the seniors residing in the home.
✓ Seniors can achieve unparalleled independence and have complete control over their living space with the help of secure remote access to the thermostat, television, lighting, and security systems.
---
 2. Biomedical Monitoring Devices 
✓ For seniors who live alone and may not have a caregiver present at all times, implantable monitoring devices can be worn to ensure 24-hour monitoring both inside and outside of their homes.
✓ Having such a device can make a crucial difference in life-or-death situations.
✓ Additionally, it may be helpful to consider a Portable Medical Storage bracelet to keep medical records on hand in an emergency.
---
 3. Security Cameras 
✓ Smart home security cameras utilize your home's Wi-Fi connection to transmit video images straight to your smartphone and store them in the cloud or a digital storage device.
✓ These smart cameras are incredibly useful in monitoring your home when you're not there.
✓ Moreover, with your permission, family members can access the cameras to watch for falls or emergencies as they age.
---
 4. Emergency Alert Systems 
✓ Many medical alert systems require a wearable device, such as a pendant or watch, to notify the monitoring center in case of a fall or medical emergency.
✓ These systems generally operate via a landline or cellular network. However, some medical alert systems, such as Aloe Care Health, utilize voice activation within the home through their hub.
✓ Emergency alert systems like Lively can also assist with Alexa's voice activation software.
---
 5. Alarms Security systems 
✓ Maximize your home's intelligence with a highly advanced setup of covert cameras equipped with silent alert systems.
✓ Ensure lightning-fast responsiveness by connecting multiple devices effortlessly. For instance, seniors can now remotely lock their car doors with their cell phones alone.
---
 6. Mobility Assistance 
✓ Various mobility assistance devices available in smart homes can be used by those who are physically disabled or ill.
✓ These devices are equipped with sensors and are designed not to disrupt the daily routines of senior citizens.
---
 7. Safe Stairs 
✓ Handrails on both sides of the staircase are crucial for the safety of older individuals residing in multi-level homes.
✓ The stairway should be well-lit from top to bottom to ensure adequate lighting.
✓ To avoid falls, it's recommended to have clear and defined steps showing the tread's edge.
---
 8. Well-Lighted Place 
✓ Good lighting is essential in every part of a home, not just the staircase. A poorly lit room can increase the risk of accidents and falls.
✓ It's essential to have adequate lighting in every room, hallway, and doorway to prevent mishaps. Entryways, in particular, can be hazardous if they are not well-lit.
---
 9. Landing Places 
✓ Having a nearby surface, like a table or bench, to set things down is crucial when entering or exiting a home.
✓ This ensures you won't feel off-balance while juggling keys, packages, and mail. Moreover, it's essential to have well-lit entryways to provide extra help.
---
 10. Better Baths 
✓ Regarding safety in the bathroom, grab bars are often considered an essential addition to the shower.
✓ However, there are other areas where they can be helpful, too, such as near the toilet or where someone may need assistance.
✓ If you have a step-in shower, consider installing grab bars to help you get in and out. To prevent scalding, use a faucet control with handles and pressure-balanced power in the shower.
✓ For those with limited mobility, a hand-held showerhead may be a better option than a fixed one regarding ease of use.
---
 11. Medication Reminders 
✓ Were you aware that modern smart home devices can be configured to provide timely reminders to seniors regarding their medication dosage and doctor appointments?
✓ Additionally, some medication dispensers have a visual feature that helps senior citizens take accurate medication and dosage.
---
 12. Smart Locks, Doorbells, and Security Systems 
✓ As a caregiver for a senior, it's natural to be concerned about their safety.
✓ Thankfully, smart locks, doorbells, and security systems offer a solution allowing them to continue living at home independently while providing peace of mind.
✓ With these technologies, you can monitor when your loved one enters or leaves the house and even receive visual confirmation of visitors.
✓ Additionally, security systems offer audio and visual controls, allowing you to monitor activity throughout the house.
---
 13. Automated Lights & Thermostats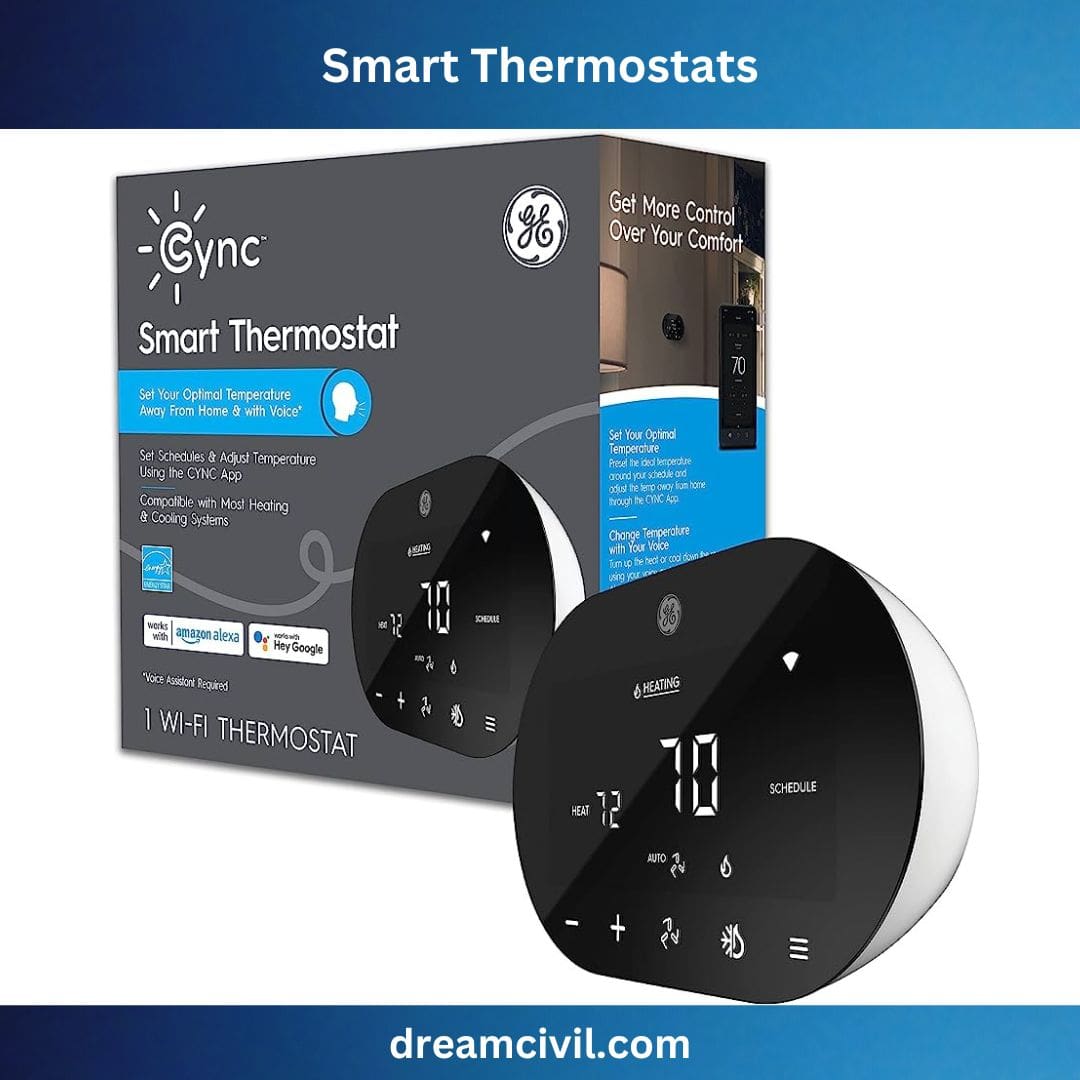 ✓ As we age, there's no need to struggle with daily activities. A range of home products are available to assist seniors in efficiently completing tasks.
✓ Thermostats, for instance, can be automated to regulate temperature based on personal preferences.
✓ They can also be voice-controlled, remotely monitored, and adjusted. Furthermore, automatic lights can reduce the likelihood of falls and injuries at night.
✓ They can be programmed to turn on or off automatically when entering or leaving a room and can even be activated by voice commands.
---
 14. Smart Stoves and Ovens 
✓ In 2020, the National Fire Protection Association reported that unattended cooking caused the most cooking-related fires and injuries.
✓ Shockingly, about 25% of deaths from stove fires happened while the person was asleep.
✓ However, you can prevent accidents with the Guard Stove and other innovative stoves and ovens.
✓ These smart appliances automatically shut off after 5 minutes of inactivity, and some even have remote access, gas sensors, timers, and activity monitors to keep you and your loved ones safe.
---
 15. Easy on the Hands 
✓ For individuals with arthritis or other conditions, turning a doorknob can pose significant challenges and even cause pain.
✓ To alleviate these difficulties and improve their quality of life, replacing traditional knobs with lever-style hardware is a helpful solution.
✓ In addition, lever-style faucets provide a more effortless user experience than traditional faucets. Similarly, illuminated rocker switches are more efficient than standard toggle light switches.
---
 16. Friendly Floors 
✓ Various hazards can cause accidents on floors, not just slippery surfaces.
✓ To prevent slips, making all floors slip-resistant is essential, which can be achieved by using nonskid mats under area rugs or removing them altogether.
✓ Additionally, trips are just as dangerous as slips, so it's essential to eliminate potential trip points like thresholds or reduce their height whenever feasible.
✓ For individuals who use walkers, it's recommended to use low-pile carpeting as it is safer and reduces the risk of falling caused by the walker getting stuck in a deep pile.
---
 17. Smart Hub 
✓ The smart hub serves as a central command center for various devices, such as Amazon Echo, Google Nest, or Samsung SmartThings, and it stays connected through Wi-Fi or Bluetooth.
✓ You can conveniently manage compatible devices in your home, such as turning lights on and off, locking and unlocking doors, and controlling your smart TV.
✓ Many smart hubs feature voice activation through Amazon Alexa or a similar assistant, and they typically come equipped with a touchscreen display and a corresponding app for your smartphone.
---
 18. Smart Lighting 
✓ Modern light fixtures and bulbs have advanced technology for remote activation via sensors, voice commands, or other controls connected to a smart hub.
✓ This convenient feature is particularly beneficial for seniors facing challenges reaching light switches, as they can now utilize voice commands.
✓ In addition, you can control your home's lighting remotely, allowing you to increase security measures while you are not home. This includes the option to turn bright lights on and off as needed.