Rat Trap Bond | Construction of Rat Trap Bond | Advantages & Disadvantages of Rat Trap Bond
Masonry is a rapidly growing technique in the field of civil engineering constructions. Masonry may be defined as the building of structures using individual construction units that are laid on and bonded by mortar. Such individual construction units include bricks, building stones, marble, limestone, concrete blocks and so on. Due to the various advantages provided by this technique such as its exceptional fire-resisting capabilities, reliability and aesthetic properties, this concept is emerging immensely in the field of construction. One such art of masonry technique is the Rat Trap Bond.
Introduction  of Rat Trap Bond
Rat trap bond may be defined as the type of modular masonry in which the bricks are placed in a vertical position such that a cavity is formed in the wall while the thickness is maintained same as that of the conventional brick wall masonry. It is also commonly referred to as Chinese brick bond.
The main concept of this bond is the reduction in the number of bricks and mortar by forming a hollow space or cavity in the middle portion. The concept of a rat trap bond was first introduced in Kerala in the 1970s by Architect Laurie Baker. The concept then slowly evolved in every part of the world due to its low construction cost, enhanced thermal efficiency and minimized material requirement.
Since this bond allows the formation of an internal cavity bridged by the rowlock, it thereby facilitates improved thermal regulation and comfort. It helps to maintain a cooler temperature inside the building than outside and vice versa. Thus, rat trap bond masonry structures can be listed as the green building technology as well.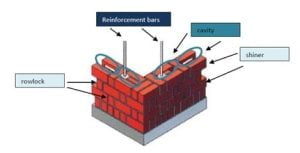 Figure 1: Schematic Diagram of Rat trap Bond
Figure 3: Plan and Elevation of Rat Trap Bond
Construction of Rat Trap Bond
A rat trap bond construction is relatively cost-efficient and durable. Steps in the construction of the rat trap bond are:
A. Selection criteria for Bricks
1. The size of the bricks must be standard and there must not be a significant deviation.
2. The corners, as well as the edges of the brick, must be straight and sharp. The brick must be in a proper rectangular shape.
3. The size of all the bricks to be used must be uniform to achieve a fine finish.
B. Selection criteria for Mortar
As far as a possible, locally available binder such as lime must be used. Lime can be used along with fly ash as a substitute for cement as it enhances the green building feature.
Type of Construction

Recommended Compressive Strength of Bricks Best Practice Minimum Allowable

Recommended Mortar Ratio

Load bearing, Double storied

40 – 50 kg/cm2

1:5

Load bearing, Single storied

35 – 40 kg/ cm2

1:4

Infill masonry in the frame structure,
no restriction on the number of floors

Min 35 kg/ cm2

Not less than 1:4
Table 1: Material Strength Requirement
c. Construction
The construction process of a rat trap bond masonry wall includes the following series of steps:
1. The bricks are laid in vertical position i.e. with the 110mm side on the front elevation in case bricks of standard size 230mm*110mm*75mm are used.
2. The cavity is formed inside the wall with a width of 230mm.
3. In the sill, lintel and other openings, the cavity should not be formed for fixing of the frames i.e. a solid masonry must be constructed.
4. For providing additional strength and stability, vertical and horizontal reinforcement bars must be provided in the internal cavity.
5. If proper designing and planning are done the electrical wires and fittings can be placed in the internal cavity.
Advantages of Rat Trap Bond
1. It facilitates cost-effective construction as it minimizes the material requirement. By adopting this method of masonry, the quantity of bricks required is 20 to 35% less while the quantity of mortar required is reduced by 30% to 50%. It has been found that a rat trap bond masonry requires 430 number of bricks whereas a conventional brick wall requires 500 number of bricks for 1 cubic m.
2. It provides an additional advantage of increased thermal comfort. Thus, the
interior of such structures remains cooler in summer and warmer in winter.
3. A well-constructed masonry structure with the rat-trap bond is aesthetically pleasing and plastering and painting may not be done. Thus, it reduces the cost of plastering and painting as well.
4. With proper planning and designing, the electrical wirings can be installed in the internal cavity of the rat trap bond thereby increasing the aesthetic appearance of the structure.
5. Due to the presence of an internal cavity, such masonry construction consists of 20% less dead weight than other conventional structures thereby reducing the load on the foundation and increasing the overall strength of the structure.
6. Walls constructed using rat trap bonds can be used both as load-bearing walls as well as thick partition walls.
7.  Rat trap bond technique is relatively durable and maintenance cost is also lower.
8. The pillars, tie beams, lintels, electrical conduit etc can be properly concealed.
Disadvantages of Rat Trap Bond
1. The construction requires skilled labour otherwise wastage of mortar may occur.
2. Due to the cavity;  good sound insulation cannot be achieved.
3. If plastering is not done, proper and frequent cleaning becomes necessary to preserve its aesthetic appearance.
4. Special care and supervision are required during the construction of the rat-trap bond.