Furrow Irrigation is an excellent method of irrigation for row crops like potatoes, cauliflowers etc.
Furrows are a series of long narrow channels constructed in the field. Furrows vary from 8 to 30 cm deep and maybe as much as 400 meters long. Excessive long furrows lead to excessive percolation at the upper end and too little water near the downslope end.
Deep furrows are widely used for row crops. Small shallow furrows called corrugations are particularly suited for meadows and small grains. Crops are usually planted on the top or sides of ridge or furrows. Water applied in the field gets soaked into the soil & spreads into the Root Zone.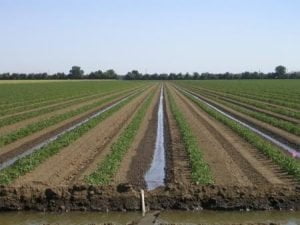 Furrows are of two types. They are:
a. Straight furrows
b. Contour furrows
Advantages of furrow irrigation
1. Water efficiency is high puddling of heavy soils is also lessened and it is possible to start cultivation soon after irrigation with the change in supply conditions, numbers of simultaneously supplied furrows can be easily changed. In this manner, very high irrigation efficiency can be achieved.
2. Cheap to construct & maintain.
3. Evaporation loss is small.
4. Furrows also serve as drainage.
5. Less wastage of land to make a furrow.
6. Only one-fifth to one-half of the land is wetted by the water.
7. Permits cultivation sooner after irrigation.
8. Less loss
Disadvantages of furrow irrigation
1. Furrow making skills are required.
2. Silts from furrows should be regularly removed.
3. Possibility of increased salinity between furrows.
4. Loss of water at the downstream end unless end dykes are used,
5. The necessity of one extra tillage work, VIZ, furrow construction.
6. Possibility of increased erosion, and
7. Furrow irrigation requires more labour than any other surface irrigation method.
Suitability
~ Furrow irrigation is suitable in the following:
~ In the relatively flat ground.
~ In flat land furrows are straight but in the sloping ground, furrows are constructed in the contour line.
We are sorry that this post was not useful for you!
Let us improve this post!
Tell us how we can improve this post?