The civil engineering job market is expected to increase by 7% in upcoming years. This growth in demand is due to the growing demand for infrastructure development, including transportation, water supplies, and communication networks. Civil Engineer Salary in India is also expected to grow in the upcoming days.
The civil engineering profession has various options for career growth. Civil engineers may perform on projects that are available in the public sector or the private sector. They can work in various fields such as (design, construction, maintenance, etc).
Civil engineers typically hold a bachelor's degree in civil engineering. However, some civil engineers may have a master's or professional degree in another field, along with specialized certifications.
---
  1. Civil Engineer Salary in India  
Many civil engineers get technical training in computer-aided design (CAD), structural analysis, and soil mechanics.
Civil engineering salary means the payment of money that an individual earns while working as a civil engineer.
It is an action of the compensation obtained by civil engineers for the work they accomplish, and it contains different forms of compensation such as base salary, bonuses, and benefits.
The salary of a civil engineer can differ vastly relying on many factors such as location, years of experience, education level, and the type of company or organization they work for.
Civil engineers are a well-respected and in-demand field, and salaries for civil engineers normally reflect this.
In India, the wage for a civil engineer can differ significantly relying on factors such as qualification, location, years of experience, and the size and type of company they worked for previously.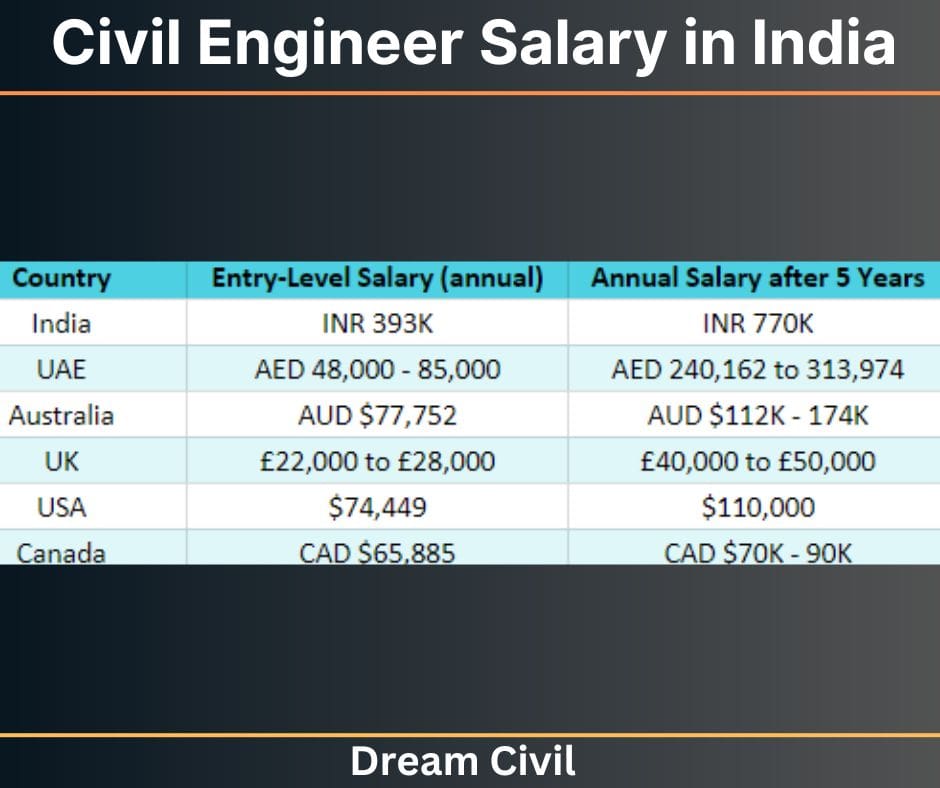 On moderate, a fresh graduate civil engineer can desire to make around ₹ 3 to 6 lakhs per year, or roughly ₹ 25,000 to 50,000 per month.
However, with experience, the salary can grow to ₹ 10 to 20 lakhs per year, or roughly ₹ 83,000 to 1,67,000 per month for a senior civil engineer.
Further, those working in metropolitan cities such as Mumbai or Delhi can desire to make a higher salary compared to those working in fewer cities.
---
  2. Factors Affecting Salary of Civil Engineer  
There are various factors affecting salary in civil engineering are mentioned below:
a. Economic of Nation
As India's economy has been growing daily at a good pace for a few years. This has led to improved infrastructure development demand, which has formed more options for civil engineers.
As a result, the values of engineers and salaries in this field have been on the rise.
b. Demand & Supply
Currently, in India, there is a high demand for civil engineers for development work. However, the supply of skilled experienced professionals is not keeping up with this demand.
This has directed to increased competition for jobs and more money for those who can get work.
c. Location
Salaries for civil engineers differ relying on the location too. In general, cities with a higher cost of living manage to give higher values than smaller towns or rural areas.
This is due to the fact that there are mainly more projects obtainable in urban areas and employers are ready to pay more to attract skilled engineers.
d. Working Ability
Mainly, it depends on how much effort you can give to the work. Whatever situations you need to handle the projects if you can do then obviously there is a high chance you will receive a good salary.
e. Knowledge of Project
If you have already been doing an engineering project there will be a high chance that you will get a job that will pay you a high salary. If you are new to the project then you will get low value.
f. Experience
As with most professions, experience is a significant factor influencing salary levels in civil engineering. Those with more experience manage to control higher wages than entry-level professionals.
g. Educational Qualifications
Another significant aspect concerning salaries in this field is educational qualifications. Those with higher degrees or specialized training earn more than those who have just only finished an engineering degree.
This was for the Civil Engineer Salary In India.
---
  3. References  
1. Content Filter & Authenticity Checking Team, Dream Civil International
(Our team checks every content & detail to maintain quality.)
---
Read Also: Standard Penetration Test