This article is about the clear vision of Famous Civil Structures in History Worldwide. It portrays all the valuable information you want to know.
---
 # What is the importance of civil structures? 
✓ The main importance of civil structure is that it helps detect whether it has been built safer.
---
 # What is the meaning of a civil structure? 
✓ If anything (i.e., buildings, bridges, and many others) is constructed or built from different and numerous interrelated parts with a specific fixed location on the earth's surface ( i.e., ground), that is called a civil structure.
---
 # What are the World's Most famous civil structures in history? 
✓ Many famous civil structures are worldwide, but some most relevant and top-rated ones can be clarified below.
 51. Blenheim Covered Bridge 
| | | |
| --- | --- | --- |
| S.N | Title | Information |
| 1. | Location | ✓ Blenheim, New York City |
| 2. | Opened | ✓ 1855 |
| 3. | Closed | ✓ 1932 |
| 4. | Total length | ✓ 71 m |
| 5. | Bridge type | ✓ Longest Covered bridge, Truss bridge |
| 6. | Longest span | ✓ 64 m Area: 8,094 m² |
---
 50. Forth Bridge 
| | | |
| --- | --- | --- |
| S.N | Title | Information |
| 1. | Address | ✓ Queensferry, South Queensferry, United Kingdom |
| 2. | Features | ✓ The first significant steel structure in the world |
| 3. | Construction started | ✓ 1882 |
| 4. | Opened | ✓ March 4, 1890 |
| 5. | Longest span | ✓ 521 m |
| 6. | Total length | ✓ 2,467 m |
| 7. | Architects | ✓ Benjamin Baker, Sir John Fowler, 1st Baronet |
| 8. | Bridge type | ✓ Cantilever bridge |
---
 49. Washington Monument 
| | | |
| --- | --- | --- |
| S.N | Title | Information |
| 1. | Address | ✓ Washington DC, United States |
| 2. | Architects | ✓ Robert Mills, Thomas Lincoln Casey Sr |
| 3. | Features | ✓ Between 1884 and 1889, it was recognized as the world's tallest structure |
| 4. | Area & Floors | ✓ 43 ha area & 3 floors |
| 5. | Height & no. of stones | ✓ 169m & over 36,000 stones |
| 6. | Total no. of steps | ✓ 897 |
| 7. | Construction started | ✓ July 4, 1848 |
| 8. | Established | ✓ October 15, 1966 |
| 9. | Opened | ✓ October 9, 1888 |
---
 48. San Francisco – Oakland Bay Bridge 
| | | |
| --- | --- | --- |
| S.N | Title | Information |
| 1. | Location | ✓ San Francisco, Oakland |
| 2. | Total length | ✓ 7,180 m |
| 3. | Height | ✓ 160 m |
| 4. | Opened | ✓ November 12, 1936 |
| 5. | Construction started | ✓ July 9, 1933 |
| 6. | Address | ✓ United States |
| 7. | Longest span | ✓ 700 m |
---
 47. Statue of Liberty 
| | | |
| --- | --- | --- |
| S.N | Title | Information |
| 1. | Real name | ✓ Liberty Enlightening the World |
| 2. | The lady in the Statue of Liberty | ✓ Augusta Charlotte Bartholdi |
| 3. | Features | ✓ The people of France gifted the Statue of Liberty |
| 4. | Address | ✓ New York, United States |
| 5. | Artist | ✓ Frédéric Auguste Bartholdi |
| 6. | Height | ✓ 93 m |
| 7. | Construction started | ✓ 1876 |
| 8. | Established | ✓ October 15, 1924 |
| 9. | Opened | ✓ October 28, 1886 |
---
 46. The Centre Pompidou 
| | | |
| --- | --- | --- |
| S.N | Title | Information |
| 1. | Address | ✓ Place Georges-Pompidou, Paris, France |
| 2. | Architects | ✓ Renzo Piano, Richard Rogers, Gianfranco Franchini, Peter Rice, Su Rogers, Mike Davies |
| 3. | Architectural styles | ✓ High-tech architecture, Brutalist architecture, Postmodern Architecture |
| 4. | Height | ✓ 42m |
| 5. | Construction started | ✓ 1971 |
| 6. | Opened | ✓ 1977 |
| 7. | Architecture firm | ✓ Piano & Rogers |
| 8. | Features | ✓ One of the stunning world-class collections of modern art |
---
 45. Quebec Bridge 
| | | |
| --- | --- | --- |
| S.N | Title | Information |
| 1. | Bridge Type | ✓ Cantilever bridge, Truss bridge, Footbridge |
| 2. | Location | ✓ Québec City, Levis |
| 3. | Construction Started | ✓ 1904 Bridge |
| 4. | Opened | ✓ December 3, 1919 |
| 5. | Total Length | ✓ 987 m |
| 6. | Features | ✓ World's Longest transparent span bridge |
| 7. | Architect | ✓ Theodore Cooper |
| 8. | Longest Span | ✓ 549 m |
---
 44. Tunkhannock Creek Viaduct 
| | | |
| --- | --- | --- |
| S.N | Title | Information |
| 1. | Address | ✓ PA-92, Nicholson, PA 18446 |
| 2. | Built By | ✓ Delaware, Lackawanna & Western Railroad (DL&W) |
| 3. | Clearance below | ✓ 73 m |
| 4. | Construction started | ✓ May 1912 |
| 5. | Total length | ✓ 724 m |
| 6. | Material | ✓ Concrete |
| 7. | Location | ✓ Nicholson |
| 8. | Height | ✓ 73 m |
---
 43. Jiaozhou Bay Bridge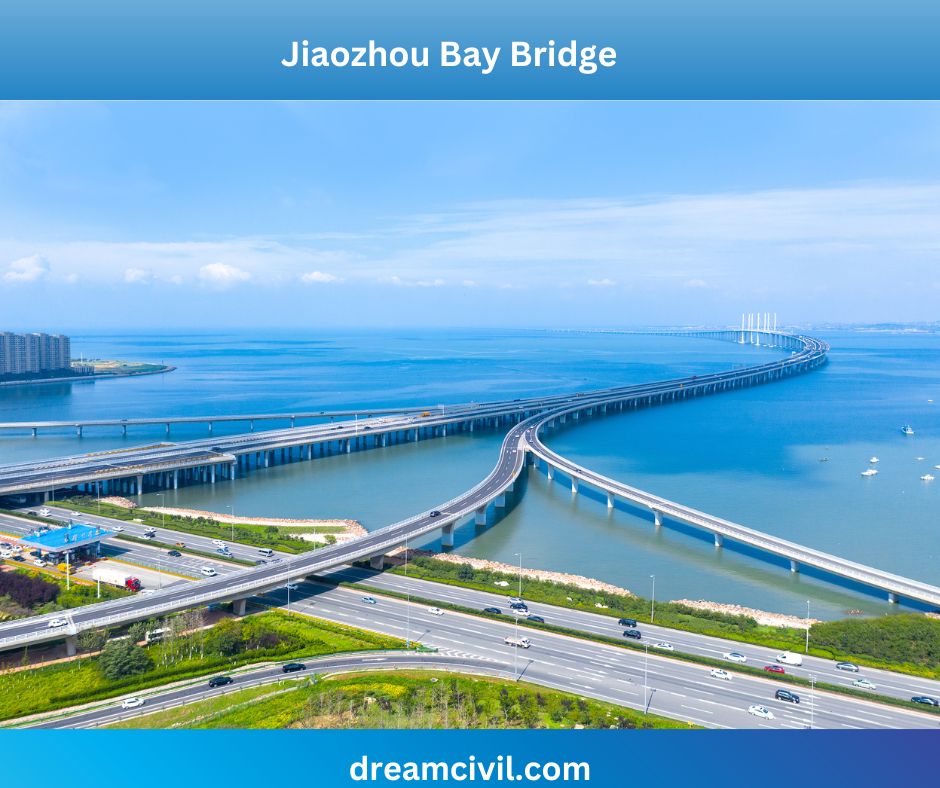 | | | |
| --- | --- | --- |
| S.N | Title | Information |
| 1. | Address | ✓ Aodong Rd, Chengyang District, Qingdao, Shandong, China |
| 2. | Construction started | ✓ 2007 |
| 3. | Total length | ✓ 41,580 m |
| 4. | Location | ✓ Qingdao, Licang District |
| 5. | Bridge type | ✓ The cable-stayed bridge, Suspension bridge, Pile bridge, Self-anchored suspension bridge |
| 6. | Material | ✓ Prestressed concrete |
| 7. | Longest span | ✓ 260 m |
| 8. | Opened | ✓ June 30, 2011 |
| 9. | Built by | ✓ Shandong Gaosu Group |
---
 42. Aqueduct of Segovia 
| | | |
| --- | --- | --- |
| S.N | Title | Information |
| 1. | Address | ✓ Segovia, Spain |
| 2. | Location | ✓ Segovia Province |
| 3. | Built by | ✓ The Roman emperor Trajan |
| 4. | Total length | ✓ 794 m |
| 5. | Height | ✓ 28 m |
| 6. | Material | ✓ Granite |
| 7. | Width | ✓ 5.1 m |
---
 41. Fairmont Le Château Frontenac 
| | | |
| --- | --- | --- |
| S.N | Title | Information |
| 1. | Address | ✓ 1, rue des Carrières Quebec City, Quebec G1R 4P5 |
| 2. | Opened | ✓ 18 December 1893 |
| 3. | Owner | ✓ Ivanhoé Cambridge |
| 4. | Height | ✓ 80 m (260 ft) |
| 5. | Architect | ✓ Bruce Price |
| 6. | Floor count | ✓ 18 |
| 7. | Number of rooms & restaurants | ✓ 610 & 4 |
---
 40. Bridgeport Covered Bridge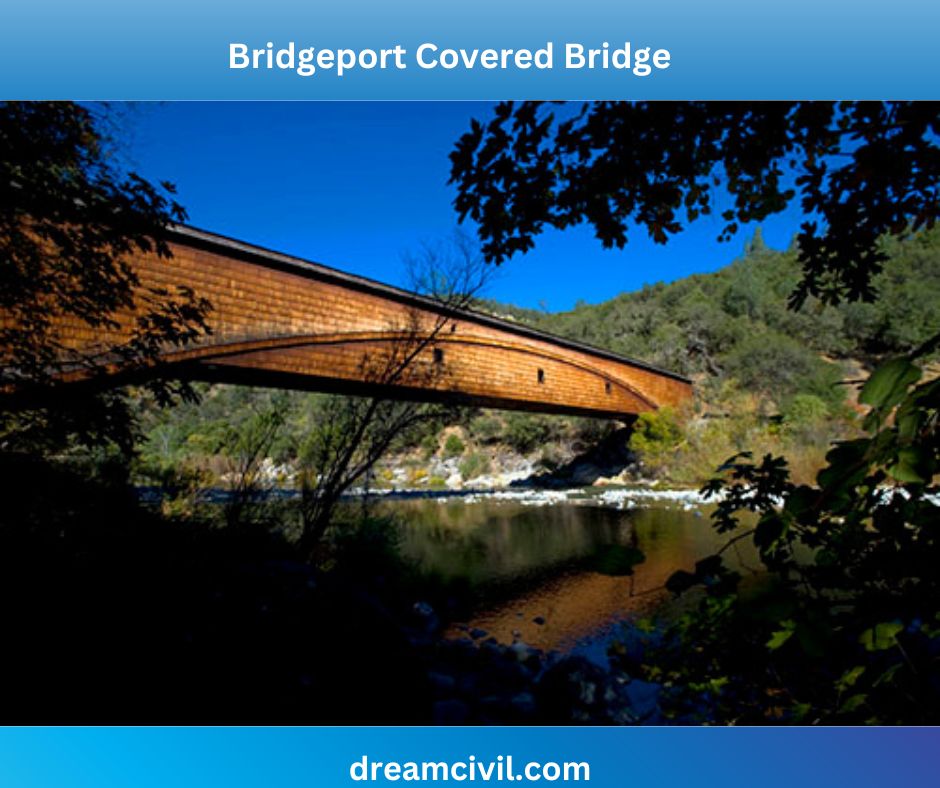 | | | |
| --- | --- | --- |
| S.N | Title | Information |
| 1. | Location | ✓ South Yuba River State Park |
| 2. | Address | ✓ 17660 Pleasant Valley Rd, Penn Valley, CA 95946, United States |
| 3. | Construction started | ✓ 1962 |
| 4. | Opened | ✓ 1862 |
| 5. | Total length | ✓ 71 m |
| 6. | Bridge type | ✓ Covered bridge, Truss bridge |
| 7. | Built by | ✓ David J. Wood |
| 8. | Longest span | ✓ 63 m |
| 9. | Body of water | ✓ Yuba River |
---
 39. Brooklyn Bridge 
| | | |
| --- | --- | --- |
| S.N. | Title | Information |
| 1. | Address | ✓ New York, NY 10038, United States |
| 2. | Total length | ✓ 1,834 m |
| 3. | Opened | ✓ May 24, 1883 |
| 4. | Construction started | ✓ 1869 |
| 5. | Bridge type | ✓ The suspension bridge, Cable-stayed bridge |
| 6. | Location | ✓ New York, Brooklyn, Manhattan |
| 7. | Longest span | ✓ 486 m |
| 8. | Architect | ✓ John A. Roebling |
---
 38. Kinzua Bridge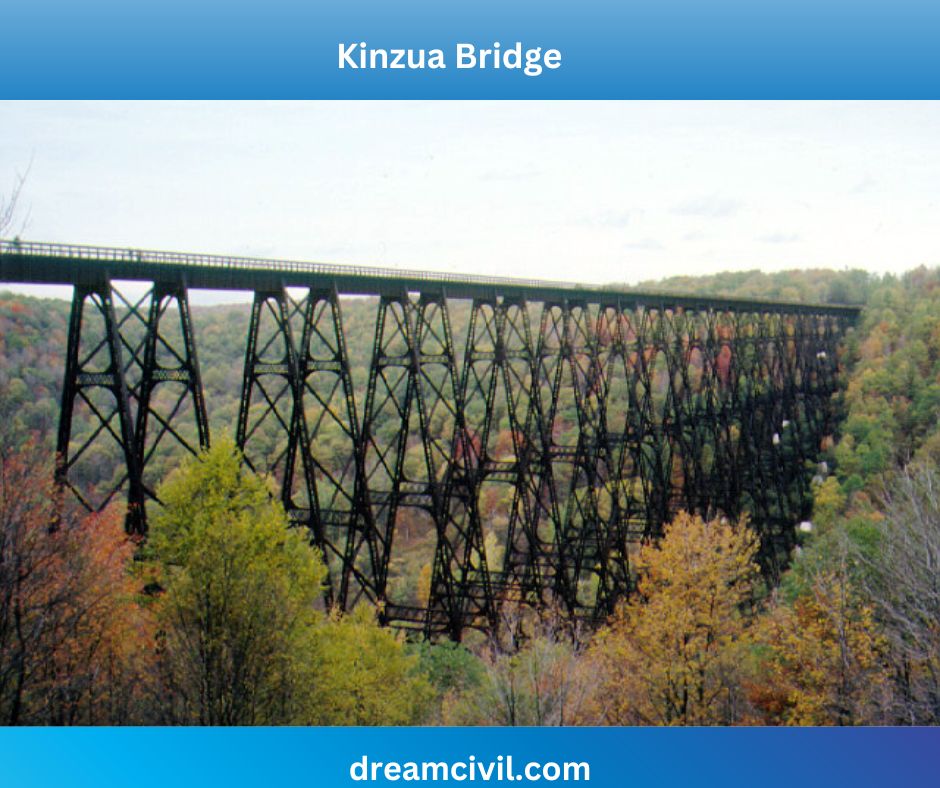 | | | |
| --- | --- | --- |
| S.N. | Title | Information |
| 1. | Location | ✓ 296 Viaduct Rd, Mt Jewett, PA 16740, USA |
| 2. | Built | ✓ 1882 |
| 3. | Design | ✓ Railroad bridge |
| 4. | Height | ✓ 301 ft (92 m) |
| 5. | Width | ✓ 10 ft (3.0 m) |
| 6. | Total length | ✓ 2,052 ft (625 m) |
| 7. | Built by | ✓ The Phoenix Iron Works |
| 8. | Collapsed | ✓ July 21, 2003 |
---
 37. Carrollton Viaduct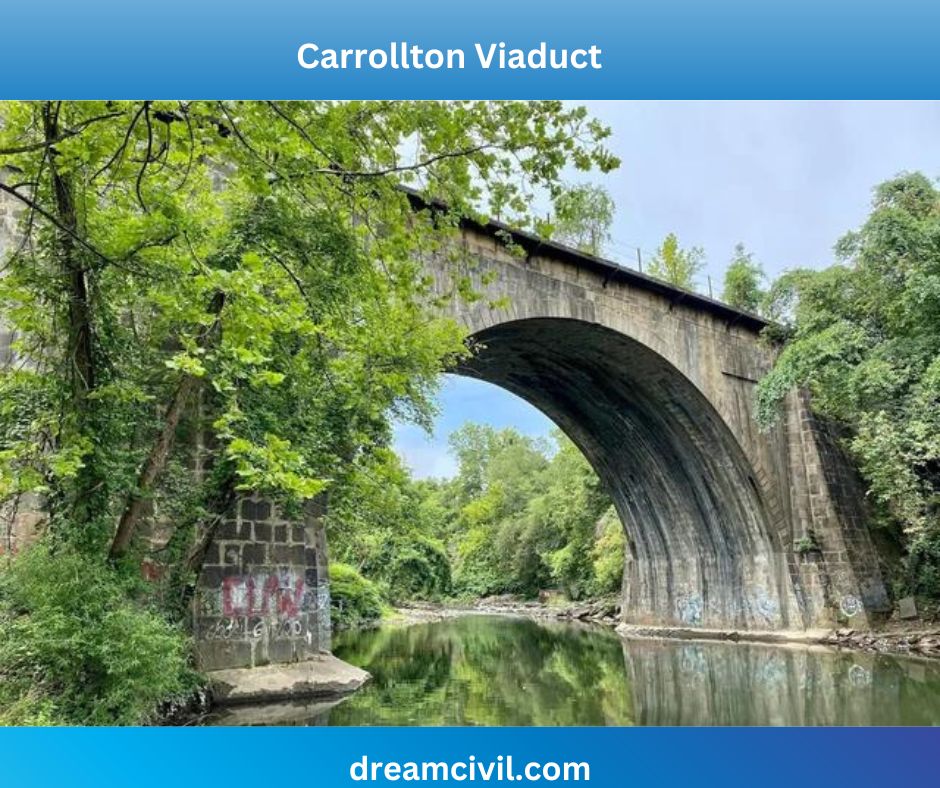 | | | |
| --- | --- | --- |
| S.N. | Title | Information |
| 1. | Address | ✓ Baltimore, MD 21230, United States |
| 2. | Location | ✓ Baltimore |
| 3. | Construction started | ✓ 1828 |
| 4. | Opened | ✓ 1829 |
| 5. | Bridge type | ✓ Arch bridge, Deck arch bridge |
| 6. | Total length | ✓ 95 m |
| 7. | Clearance below | ✓ 16 m |
| 8. | Longest span | ✓ 24 m |
| 9. | Built by | ✓ Caspar Wever and designer James Lloyd |
---
 36. Northampton Street Bridge 
| | | |
| --- | --- | --- |
| S.N. | Title | Information |
| 1. | Address | ✓ Union Square, Phillipsburg, NJ 08865, United States |
| 2. | Location | ✓ Easton |
| 3. | Total length | ✓ 171 m |
| 4. | Opened | ✓ 1896 |
| 5. | Architect | ✓ James Madison Porter III |
| 6. | Body of water | ✓ Delaware River |
| 7. | Load limit | ✓ 3 short tons (2.7 t) |
---
 35. Holmesburg Bridge 
| | | |
| --- | --- | --- |
| S.N. | Title | Information |
| 1. | Address | ✓ Frankford Ave & Solly Ave, Philadelphia, PA 19136, United States |
| 2. | Opened | ✓ 1697 |
| 3. | Bridge type | ✓ Arch bridge |
| 4. | Location | ✓ US 13 (Frankford Avenue) – Philadelphia, Pennsylvania |
| 5. | Total length | ✓ 22 m |
| 6. | Built | ✓ 1697 |
| 7. | Built by | ✓ The men of Holmesburg |
---
 34. Edificio Kavanagh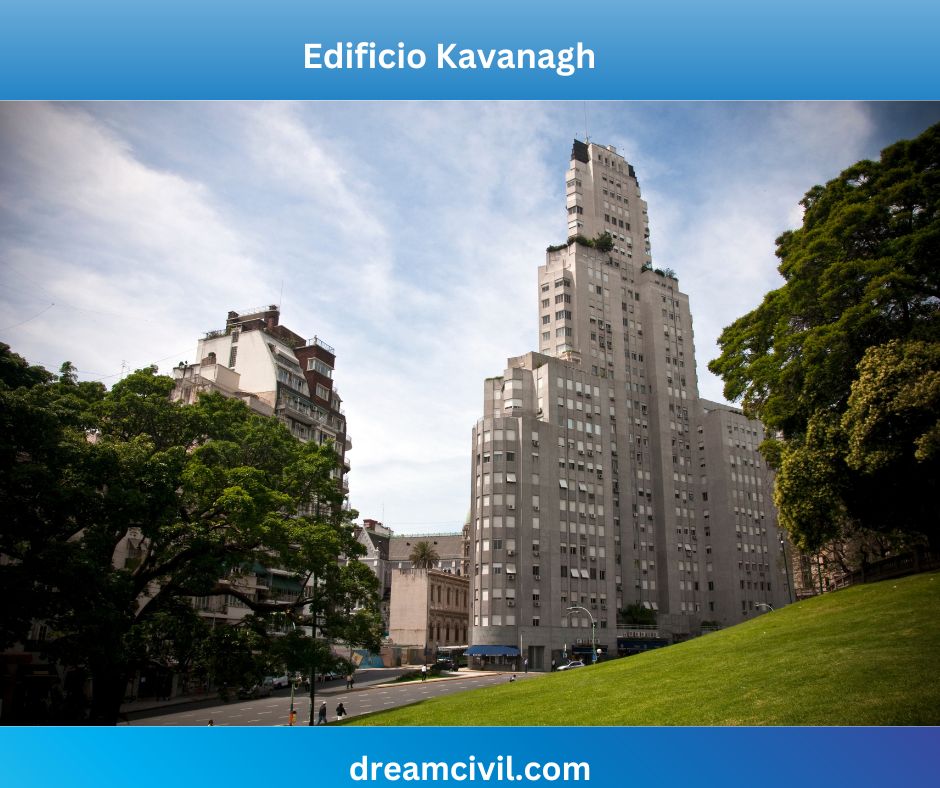 | | | |
| --- | --- | --- |
| S.N. | Title | Information |
| 1. | Address | ✓ Florida 1065, C1005 CABA, Argentina |
| 2. | Architects | ✓ Ernesto Lagos, Gregorio Sánchez, Luis María de la Torre |
| 3. | Architectural styles | ✓ Modern architecture, Art Deco, Rationalism |
| 4. | Construction started | ✓ 1934 |
| 5. | Floors | ✓ 31 |
| 7. | Owner | ✓ Alain Levenfiche |
| 8. | Opened | ✓ January 2, 1936 |
| 9. | Height | ✓ 120 m CTBUH |
---
 33. Rockville Bridge 
| | | |
| --- | --- | --- |
| S.N. | Title | Information |
| 1. | Address | ✓ 800 S Main St, Marysville, PA 17110, United States |
| 2. | Construction started | ✓ April 1900 |
| 3. | Location | ✓ Marysville |
| 4. | Opened | ✓ March 30, 1902 |
| 5. | Total length | ✓ 3,820 feet (1,164 m) |
| 6. | Body of water | ✓ Susquehanna River |
| 7. | Design | ✓ Stone masonry arch bridge |
| 8. | Clearance below | ✓ 13 m |
| 9. | Longest span | ✓ 70 feet (21 m) |
---
 32. Ingalls Building 
| | | |
| --- | --- | --- |
| S.N. | Title | Information |
| 1. | Address | ✓ 6 E 4th St, Cincinnati, OH 45202, United States |
| 2. | Architectural style | ✓ Neoclassical architecture |
| 3. | Architect | ✓ Alfred Oscar Elzner |
| 4. | Material | ✓ reinforced concrete |
| 5. | Built | ✓ 1903 |
| 6. | Floors | ✓ 16 |
---
 31. Cabin John Aqueduct Bridge 
| | | |
| --- | --- | --- |
| S.N. | Title | Information |
| 1. | Address | ✓ 7394-7398 Macarthur Blvd, Cabin John, MD 20818, United States |
| 2. | Architect | ✓ Montgomery C. Meigs |
| 3. | Area | ✓ 2 ha |
| 4. | Location | ✓ Cabin John |
| 5. | Opened | ✓ 1864 |
| 6. | Material | ✓ Masonry bridge |
| 7. | Features | ✓ A long bridge including so many arches with the best water supply over a valley |
---
 30. Union Bridge 
| | | |
| --- | --- | --- |
| S.N. | Title | Information |
| 1. | Address | ✓ Berwick-upon-Tweed TD15 1XQ, United Kingdom |
| 2. | Location | ✓ Northumberland |
| 3. | Opened | ✓ 26 July 1820 |
| 4. | Total area | ✓ 1.04 sq mi (2.68 km2) |
| 5. | Construction started | ✓ 1819 |
| 6. | Architect | ✓ Samuel Brown |
| 7. | Longest span | ✓ 137 m |
| 8. | Bridge type | ✓ Suspension bridge |
| 9. | Body of water | ✓ River Tweed |
---
 29. Craigellachie Bridge 
| | | |
| --- | --- | --- |
| S.N. | Title | Information |
| 1. | Address | ✓ River Spey, Craigellachie, Aberlour AB38 9ST, United Kingdom |
| 2. | Construction started | ✓ 1812 |
| 3. | Architect | ✓ Thomas Telford |
| 4. | Location | ✓ Craigellachie |
| 5. | Material | ✓ Cast iron |
| 6. | Total length | ✓ 46 m |
| 7. | Bridge type | ✓ Arch bridge, Deck arch bridge |
| 8. | Owned by | ✓ The Moray Council |
---
 28. Bidwell Bar Bridge 
| | | |
| --- | --- | --- |
| S.N. | Title | Information |
| 1. | Address | ✓ Oroville, CA 95966, United States |
| 2. | Opened | ✓ 1967 |
| 3. | Total length | ✓ 338 m |
| 4. | Location | ✓ Oroville |
| 5. | Bridge type | ✓ Suspension bridge |
| 6. | Body of water | ✓ Lake Oroville |
---
 27. Windsor Upper Dam 
| | | |
| --- | --- | --- |
| S.N. | Title | Information |
| 1. | Opened | ✓ 1783 |
| 2. | Area | ✓ 2 ha |
| 3. | Height | ✓ 12 m |
| 4. | Architectural style | ✓ Greek Revival architecture |
| 5. | Added to NRHP | ✓ January 9, 2007 |
| 6. | Contractors | ✓ Simeon Cobb and Joseph Mason |
---
 26. Seventh Street Improvement Arches 
| | | |
| --- | --- | --- |
| S.N. | Title | Information |
| 1. | Opened | ✓ 1884 |
| 2. | Added to NRHP | ✓ November 6, 1989 |
| 3. | Longest span | ✓ 41 feet in the east arch, 30 feet in the west arch |
| 4. | Location | ✓ Saint Paul |
| 5. | Width | ✓ 38 m |
| 6. | Built by | ✓ Michael O'Brien and McArthur Brothers of Chicago |
---
 25. Choate Bridge 
| | | |
| --- | --- | --- |
| S.N. | Title | Information |
| 1. | Address | ✓ MA-1A, Ipswich, MA 01938, United States |
| 2. | Opened | ✓ 1764 |
| 3. | Added to NRHP | ✓ August 21, 1972 |
| 4. | Location | ✓ Ipswich, Massachusetts |
| 5. | Architect | ✓ Michael O'Brien and McArthur Brothers of Chicago |
| 6. | Length | ✓ 90 Feet |
---
 24. Walnut Street Bridge 
| | | |
| --- | --- | --- |
| S.N. | Title | Information |
| 1. | Address | ✓ 1 Walnut St, Chattanooga, TN 37403, United States |
| 2. | Clearance below | ✓ 30 m |
| 3. | Construction started | ✓ 1889 |
| 4. | Body of water | ✓ Tennessee River |
| 5. |  Total length | ✓ 724 m |
| 6. | Bridge type | ✓ Truss bridge |
| 7. | Area | ✓ 6,475 m² |
| 8. | Opened | ✓ 1890 |
---
 23. Bollman Iron Truss Bridge 
| | | |
| --- | --- | --- |
| S.N. | Title | Information |
| 1. | Address | ✓ Laurel, MD 20723, United States |
| 2. | Architect | ✓ Wendel Bollman |
| 3. | Area | ✓ 2 ha |
| 4. | Total length | ✓ 49 m |
| 5. | Location | ✓ Savage |
| 6. | Construction started | ✓ 1852 |
| 7. | Opened | ✓ 1869 |
| 8. | Owners | ✓ Savage Manufacturing Company, Howard County Commission |
---
 22. Starrucca Viaduct 
| | | |
| --- | --- | --- |
| S.N. | Title | Information |
| 1. | Address | ✓ Depot St, Susquehanna, PA 18847, United States |
| 2. | Total length | ✓ 1,040 feet (320 m) |
| 3. | Location | ✓ Lanesboro |
| 4. | Longest span | ✓ Seventeen spans of 50 feet (15 m) |
| 5. | Height | ✓ 34 m |
| 6. | Clearance below | ✓ 100 feet (30 m) |
| 7. | Bridge type | ✓ Arch bridge, Deck arch bridge |
| 8. | Opened | ✓ 1848 |
| 9. | Design | ✓ Stone arch bridge |
---
 21. Canton Viaduct 
S.N.
Title
Information
1.
Address
✓ Canton, MA 02021, United States
2.
Construction started
✓ April 20, 1834
3.
Clearance below
✓ 7.01 m
4.
length
✓ 187 m
5.
Opened
✓ July 28, 1835
6.
Height
✓ 21 m
7.
Bridge type
✓ Viaduct
8.
Design
✓ Blind arcade cavity wall
9.
Material
✓ Walls – Granite
✓ Deck – Reinforced concrete
---
 20. Puente Malleco 
| | | |
| --- | --- | --- |
| S.N. | Title | Information |
| 1. | Address | ✓ Collipulli, Araucania, Chile |
| 2. | Architect | ✓ Victorino Aurelio Lastarria |
| 3. | Location | ✓ Collipulli |
| 4. | Height | ✓ 102 m |
| 5. | Opened | ✓ October 26, 1890 |
| 6. | Total length | ✓ 348 m |
| 7. | Bridge type | ✓ Beam bridge |
| 8. | Width | ✓ 4 m |
---
 19. Watertown Arsenal 
| | | |
| --- | --- | --- |
| S.N. | Title | Information |
| 1. | Location | ✓ Watertown, Massachusetts |
| 2. | Built | ✓ 1816 |
| 3. | Built by | ✓ The United States Army |
| 4. | Old name | ✓ Dial Square |
| 5. | Area | ✓ 16 ha |
---
 18. Historic Waldo-Hancock Bridge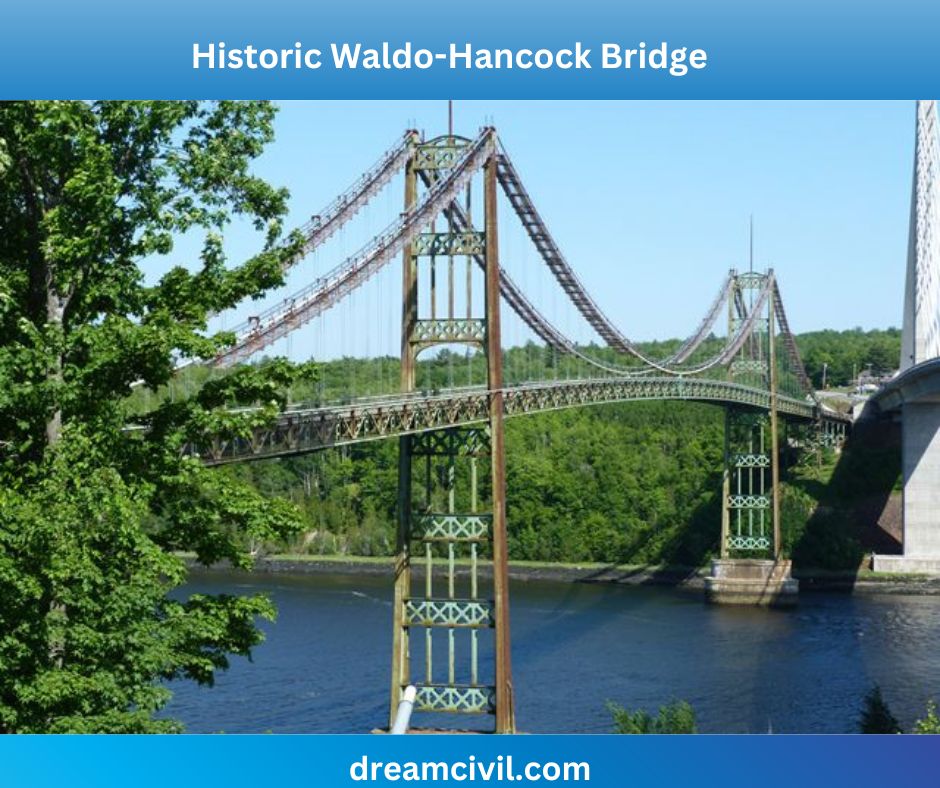 | | | |
| --- | --- | --- |
| S.N. | Title | Information |
| 1. | Address | ✓ 740 Ft Knox Rd, Prospect, ME 04981, Bucksport, United States |
| 2. | Clearance below | ✓ 41 m |
| 3. | Opened | ✓ November 16, 1931 |
| 4. | Total length | ✓ 622 m |
| 5. | Longest span | ✓ 244 m |
| 6. | Structure | ✓ Suspension bridge |
| 7. | Function/Usage | ✓ Road bridge |
| 8. | Material | ✓ Steel bridge |
| 9. | Designer | ✓ Robinson & Steinman David B. Steinman |
---
 17. Thomas Viaduct @ Relay 
| | | |
| --- | --- | --- |
| S.N. | Title | Information |
| 1. | Address | ✓ Relay, 5120 South St, Halethorpe, MD 21227, United States |
| 2. | Location | ✓ Elkridge |
| 3. | Construction started | ✓ 1833 |
| 4. | Opened | ✓ July 4, 1835 |
| 5. | Total length | ✓ 187 m |
| 6. | Longest span | ✓ 18 m |
| 7. | Architects | ✓ Benjamin Henry Latrobe II, Benjamin Henry Latrobe |
| 8. | Area | ✓ 2,024 m² |
| 9. | Materials | ✓ Rough-dressed granite ashlar stones |
---
 16. Dunlap's Creek Bridge 
| | | |
| --- | --- | --- |
| S.N. | Title | Information |
| 1. | Construction started | ✓ 1836 |
| 2. | Total length | ✓ 26 m |
| 3. | Opened | ✓ 1839 |
| 4. | Longest span | ✓ 24 m |
| 5. | Area | ✓ 404.7 m² |
| 6. | Location | ✓ Brownsville |
| 7. | Material | ✓ Cast iron |
---
 15. ASB Railroad Bridge 
| | | |
| --- | --- | --- |
| S.N. | Title | Information |
| 1. | Address | ✓ Kansas City, MO 64106, United States |
| 2. | Opened | ✓ 1911 |
| 3. | Location | ✓ Kansas City |
| 4. | Bridge type | ✓ Truss bridge, Vertical-lift bridge |
| 5. | Total length | ✓ 1,282 ft (391 m) |
| 6. | Longest span | ✓ 428 ft (130 m) |
| 7. | Designer | ✓ Waddell & Harrington |
| 8. | Official name | ✓ Armour-Swift-Burlington Bridge |
| 9 | Body of water | ✓ Missouri River |
---
 14. Wheeling Suspension Bridge 
| | | |
| --- | --- | --- |
| S.N. | Title | Information |
| 1. | Address | ✓ Wheeling, WV 26003, United States |
| 2. | Opened | ✓ 1849 |
| 3. | Construction started | ✓ 1847 |
| 4. | Location | ✓ Wheeling |
| 5. | Architects | ✓ Charles Ellet Jr., Washington Roebling |
| 6. | Total length | ✓ 398 m |
| 7. | Longest span | ✓ 308 m |
| 8. | Clearance below | ✓ 29 m |
---
 13. Cornish-Windsor Covered Bridge 
| | | |
| --- | --- | --- |
| S.N. | Title | Information |
| 1. | Address | ✓ Cornish, NH 03745 |
| 2. | Construction started | ✓ April 3, 1866 |
| 3. | Total length | ✓ 137 m |
| 4. | Longest span | ✓ 62 m |
| 5. | Clearance below | ✓ 3.89 m |
| 6. | Bridge type | ✓ Lattice truss bridge |
| 7. | Materials | ✓ Wood |
| 8. | Built by | ✓ James Tasker and Bela Fletcher |
| 9. | Body of water | ✓ Connecticut River |
---
 12. Isaac Lee Patterson Bridge 
| | | |
| --- | --- | --- |
| S.N. | Title | Information |
| 1. | Address | ✓ OR Coast 9, US 101, MP 327.70, Gold Beach, Oregon |
| 2. | Architect | ✓ Conde B. McCullough; Mercer-Fraser Co. |
| 3. | Area | ✓ 2.6 acres (1.1 ha) |
| 4. | Opened | ✓ May 28, 1932 |
| 5. | Design | ✓ Concrete arch-deck |
| 6. | Longest span | ✓ 70 meters (230 ft), 7 spans |
| 7. | Width | ✓ 8.2 meters (27 ft) |
| 8. | Total length | ✓ 591 meters (1,939 ft) |
---
 11. Lacey V. Murrow Bridge 
S.N.
Title
Information
1.
Address
✓ 1330 Lakeside Ave S, Seattle, WA 98144, United States
2.
Construction started
✓ January 1, 1939
3.
Opened
✓ July 2, 1940
4.
Total length
✓ 2,018 m
5.
Location
✓ Seattle
6.
Clearance below
✓ 8.8 m
7.
Bridge type
✓ Pontoon bridge
8.
Materials
✓ Reinforced concrete bridge
9.
Built by
✓ Homer Hadley
✓ Charles Andrew
✓ Clark Elkridge
---
 10. High Bridge of Kentucky 
S.N.
Title
Information
1.
Location
✓ Kentucky 40390, USA
2.
Opened
✓ 1877
3.
Design
✓ Truss
4.
Designer
✓ Charles Shaler Smith (1876)
✓ Gustav Lindenthal (1911)
5.
Height
✓ 275 feet (84 m)
6.
Total length
✓ 1,125 feet (343 m)
---
 9. Alvord Lake Bridge 
| | | |
| --- | --- | --- |
| S.N. | Title | Information |
| 1. | Address | ✓ 499 Kezar Dr, San Francisco, CA 94117, United States |
| 2. | Location | ✓ San Francisco |
| 3. | Opened | ✓ 1889 |
| 4. | Total length | ✓ 8.8 m |
| 5. | Bridge type | ✓ The concrete bridge, Deck arch bridge |
| 6. | Architect | ✓ Ernest L. Ransome |
| 7. | Longest span | ✓ 6.1 m |
| 8. | Width | ✓ 20 m |
| 9. | Materials | ✓ twisted steel bars and wires |
---
 8. Moseley Wrought Iron Arch Bridge 
| | | |
| --- | --- | --- |
| S.N. | Title | Information |
| 1. | Address | ✓ 315 Turnpike St, North Andover, MA 01845, United States |
| 2. | Location | ✓ Merrimack College |
| 3. | Bridge type | ✓ Tied-arch bridge |
| 4. | Opened | ✓ 1864 |
| 5. | Built by | ✓ Thomas W.H. Moseley |
| 6. | Materials | ✓ stones, bricks, wood, concrete, and steel |
---
 7. Salginatobel Bridge 
| | | |
| --- | --- | --- |
| S.N. | Title | Information |
| 1. | Location | ✓ Schiers |
| 2. | Construction started | ✓ 1929 |
| 3. | Opened | ✓ August 13, 1930 |
| 4. | Longest span | ✓ 90 m |
| 5. | Material | ✓ Reinforced concrete |
| 6. | Architect | ✓ Robert Maillart |
| 7. | Bridge type | ✓ Three-hinged, hollow box arch bridge |
---
 6. Hoover Dam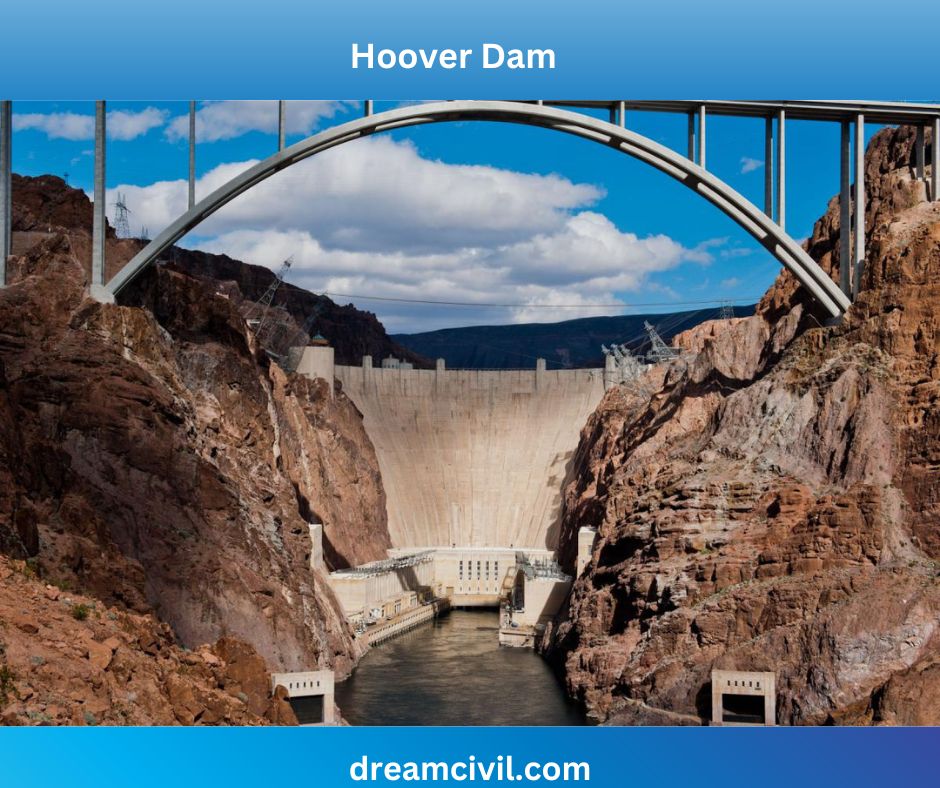 | | | |
| --- | --- | --- |
| S.N. | Title | Information |
| 1. | Address | ✓ Nevada 89005, United States |
| 2. | Construction started | ✓ April 20, 1931 |
| 3. | Opened | ✓ March 1, 1936 |
| 4. | Height | ✓ 221 m |
| 5. | Architects | ✓ Henry J. Kaiser, Gordon Kaufmann |
| 6. | Area | ✓ 640 km² |
| 7. | Owner | ✓ Bureau of Reclamation |
| 8. | Architecture firm | ✓ Six Companies |
| 9. | Bridge type | ✓ concrete-steel arch composite bridge |
---
 5. Stone Arch Bridge 
| | | |
| --- | --- | --- |
| S.N. | Title | Information |
| 1. | Address | ✓ 100 Portland Ave, Minneapolis, MN 55401, United States |
| 2. | Location | ✓ Minneapolis |
| 3. | Construction started | ✓ 1881 |
| 4. | Total length | ✓ 640 m |
| 5. | Opened | ✓ 1883 |
| 6. | Architect | ✓ James J. Hill |
| 7. | Clearance below | ✓ 7.44 m |
| 8. | Bridge type | ✓ Arch bridge, Truss bridge, Deck arch bridge |
| 9. | Materials | ✓ Granite and limestone |
---
 4. Golden Gate Bridge 
| | | |
| --- | --- | --- |
| S.N. | Title | Information |
| 1. | Address | ✓ Golden Gate Bridge, San Francisco, CA, United States |
| 2. | Construction started | ✓ January 5, 1933 |
| 3. | Opened | ✓ May 27, 1937 |
| 4. | Location | ✓ San Francisco, Marin County |
| 5. | Total length | ✓ 2,737 m |
| 6. | Longest span | ✓ 4,200 ft (1,280.2 m) |
| 7. | Architect | ✓ Irving Morrow |
| 8. | Height | ✓ 746 ft (227.4 m) |
| 9. | Bridge type | ✓ Suspension bridge, Truss arch bridge, Truss bridge |
---
 3. The White House 
| | | |
| --- | --- | --- |
| S.N. | Title | Information |
| 1. | Address | ✓ Pennsylvania Avenue NW Washington, D.C. U.S. |
| 2. | Current tenants | ✓ Joe Biden, President of the United States, and the First Family |
| 3. | Architectural style | ✓ Neoclassical, Palladian |
| 4. | Construction started | ✓ 13 October 1792 |
| 5. | Completed | ✓ 1st November 1800 |
| 6. | Floor area | ✓ 55,000 sq ft (5,100 m2) |
| 7. | Architect | ✓ James Hoban |
---
 2. Eiffel Tower 
| | | |
| --- | --- | --- |
| S.N. | Title | Information |
| 1. | Address | ✓ Champ de Mars, 5 Av. Anatole France, 75007 Paris, France |
| 2. | Location | ✓ Champ de Mars |
| 3. | Height | ✓ 300 m, 330 m to tip |
| 4. | Construction started | ✓ January 28, 1887 |
| 5. | Architects | ✓ Stephen Sauvestre, Émile Nouguier, Maurice Koechlin |
| 6. | Opened | ✓ March 31, 1889 |
| 7. | Contractor | ✓ Compagnie des Etablissements Eiffel |
| 8. | Architecture firm | ✓ Compagnie des Etablissements |
| 9. | Floors | ✓ 3 |
---
 1. Hagia Sophia 
| | | |
| --- | --- | --- |
| S.N. | Title | Information |
| 1. | Address | ✓ Sultan Ahmet, Ayasofya Meydanı No:1, 34122 Fatih/İstanbul, Türkiye |
| 2. | Architects | ✓ Isidore of Miletus, Anthemius of Tralles |
| 3. | Opened | ✓ December 27, 537 AD |
| 4. | Architectural style | ✓ Byzantine architecture |
| 5. | Function | ✓ Mosque |
| 6. | Materials | ✓ Ashlar, Roman brick |
| 7. | Height | ✓ 56 m |